To grow your business with online marketing, popups are great.
Companies like copyblogger increased their opt-in rates by 400% using popups. And to build them, platforms like Sleeknote popup builder come to mind.
But using the services of these platforms is never handy, plus they have many downsides.
And if your website is built on WordPress, you'd surely face many issues.
Thus, if you're looking for WordPress popup builders or Sleeknote alternatives, this blog post can help. In this, we'll discuss 7 free and powerful WordPress popup builders you can use more efficiently than Sleeknote.
But, before we hop on to our plugins, let's look at why you should go for Sleeknote alternatives.
3 Reasons Why You Need Sleeknote Alternatives for WordPress
Sleeknote is not a WordPress plugin. If you want to use it, you must follow many complex steps to make it work on your website. You need to copy the Sleeknote code and then edit the theme files. If you're a beginner to WordPress, this will be an uphill battle for you.
Besides, the following reasons will always be a concern,
1. No Control on Data and Privacy
When you choose Sleeknote, you select a platform that is not in your control. It's hosted on servers that can only be accessible by Sleeknote employees. Whatever you'll create, you have no control over the data and how it's processed.
However, using a WordPress popup builder gives you the ultimate ownership. You know where your data is stored, how it is processed, and what you can do to it.
The complete ownership of your content that is missing with Sleeknote.
2. Too Expensive
For big marketers or business owners, pricing might not be an issue. But, most business owners and marketers start from small. They have a tight budget and high expectations. And if they choose Sleeknote, they might be able to show popups but unable to perform other business actions.
The base plan of Sleeknote starts from €588/year. And if you go for advanced options, things get heavy:
€708/year for the Basic plan.
€1368/year for the Plus plan.
€2700/year for the Pro plan.
And €4428/year for the Premium plan.
Now, if you use a WordPress plugin for popups, you don't even have to pay. And if you choose the premium ones, they're available starting from €39/year with all the features Sleeknote offers.
So, why choose Sleeknote after all?
3. Limited Features
With pricing comes limited features; you need to pay more to get more features. But with a WordPress plugin, you can customize your popups without limitations. They are user and developer friendly, offering all the features Sleeknote can.
Further, they're primarily for WordPress. Thus, face no issues while making customizations to them.
A Quick Look at the Best Sleeknote Alternatives
For effective marketing, we have selected the following WordPress popup builder plugins as Sleeknote Alternative.
By keeping Sleeknote popup builder issues in mind: Cost, Control, and Capabilities, the following plugins are the best alternative to Sleeknote. With these, you get the intuitive options to display popups for free.
Thus, allowing you to make the most out of your popups at a reasonable amount.
1. FireBox

The Gutenberg editor is the future of WordPress. Whether you want to run a blog or manage a full-fledged website, it can support any website you have in mind. And to add marketing wings to your Gutenberg editor, you've got FireBox.
A feature-rich, robust WordPress plugin that enables you to create popups using Gutenberg. It's fabulous, isn't it?
I was also amazed by the magnificence of this plugin. It makes it possible to do everything right in Gutenberg without using any other plugin or interface to display WordPress popups. Using FireBox, create any kind of popup; by any kind, it truly means "Any Kind."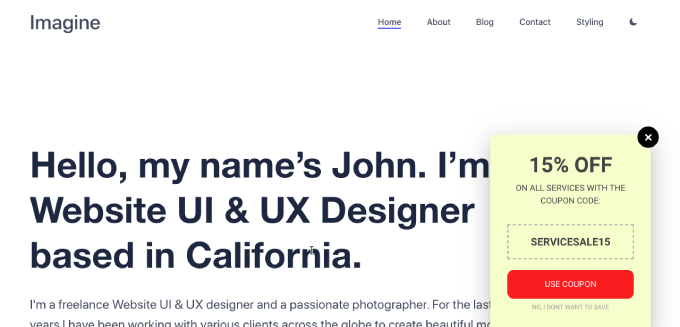 Display newsletter popup, opt-in, WordPress lightbox with images, video, content, and more. Besides, it allows you to display Page Slides with different Trigger Points, just like the popups. Interesting, right?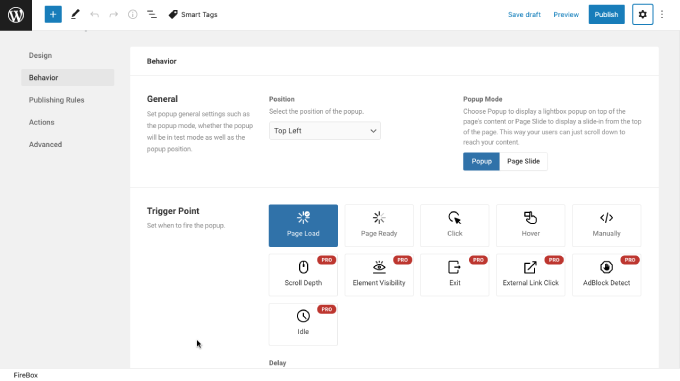 The premium version of FireBox takes its usefulness to a new level. You can fire exit-intent popups, page scroll popups, external link click popups, and even a popup as Ad Block Detector. Overall, a complete solution for the WordPress Gutenberg editor to display beautiful, powerful, and modern WordPress popups without any extra effort and money.
And because FireBox is built for Gutenberg, you don't have to compromise speed for functionality.
Why is FireBox a Better Sleeknote Alternative?
Useful popup trigger points. FireBox provides you with 10+ popup Trigger Points. You can easily decide how the popup should fire and behave on the site using these.
A library of Gutenberg blocks. FireBox adds many Gutenberg blocks that you can use to fire your WordPress modal. You can also use them generally for daily errands on the site.
Optimum design control. Change the width, and adjust the height. Use different font-size for different devices. Add paddings, apply a background color, set position, etc.
Amazing animation effects. With 39 different animation effects, capture users' eyes in the first moment. And you can do that for both when the popup appears and closes.
Advanced publishing rules. Fire your popups based on Page/URL, Datetime, User role, Custom Post Types, Devices, Browsers, Location, Cookie, and more.
Freedom for developers and much more. The Custom CSS option of Firebox makes it even more helpful. You can add your codes to extend its working as well as style. Besides, you get pre-made templates. So, you can quickly design and fire a working WordPress popup that supports your marketing efforts immensely.
FireBox Pricing
You can get the premium version of Firebox at €39/year for 1 website. And for unlimited websites, it's €89, which, compared to Sleeknote, is much more inexpensive. You also get a 30-Day Money-back Guarantee. So, there's no risk.
2. Popup Box

For quick popup solutions, Popup Box is one of the best WordPress popup builders. And also a good alternative to the Sleeknote popup builder.
It features its own UI to build WordPress opt-ins or other types of popups which you can select from its Template Library. Unlike FireBox, it enables you to add popup content and description using the Classic Editor.
This might cause a bit of an issue if you're used to Gutenberg Editor.
The Trigger options available with this plugin are Onload and OnClick. Thus, providing possibilities to display popups effectively. Furthermore, you can select the popup position creatively by choosing a box in a table representing Page View.
Set Delay, Scroll Percentage; Popup Close on ESC or click Outside the box. Hide popup on selected devices, and limit it per user once.
If I have to summarize in a single sentence, I'd say: you get many options that you can easily use to display popups in WordPress.
Why is Popup box a Better Sleeknote Alternative?
Simple analytics to view popup performance. Popup Box lets you view how your popup is working. Unlike FireBox, where you can utilize Google Analytics to view popup reports, Popup Box offers simple yet effective data to improve your marketing efforts.
Use shortcodes to display popups anywhere. The ability to use shortcodes allow you to show popup on different areas of your website, whether sidebar, footer, menu or even page content.
Popup for specific pages. Limit your popup to whether it should appear on every page, post type, or only on selected ones.
Popup Box Pricing
Get Popup Box Pro for a one-time payment of $39. Use it on 5 websites with 12 months of Updates and Support.
3. Brave

If you're looking for a WordPress popup builder that uses drag-and-drop functionality, Brave is your thing.
When I checked out this plugin, it felt almost familiar. Why? Because I design my clients' websites using Oxygen and Elementor builder. So using this plugin was easy peasy.
The whole UI is based on Drag and Drop and allows you to build popups without any interruption.
Although it features a builder tour, using Brave can be a learning curve if you're habitual to Gutenberg. In my case, it was smooth, from setting the title, selecting the template (you can start from Blank,) and then into the builder.
Go to the left sidebar to pick the elements. Not much, by the way, only 10 popup elements. But enough to build a classy popup. Then, in the right sidebar, you get Popup Layout, Style, Animation, Overlay and Close Button.
What's interesting about Brave is that you can separately design your popup for Desktop and Mobile by switching the view.
Why is Brave a Better Sleeknote Alternative?
Set up custom goals. Brave's UI allows you to create popups to meet different objectives, such as Lead Capture, Form Submission, and more.
Easily preview popup. Once done building, you can view how your popup will look using the Preview option before publishing it.
Set notification alerts. You get multiple options where you'd like to send popup alerts—for instance, Email, Zapier, and Google Analytics (just like FireBox.)
Brave Pricing
Get Brave Pro at $59/Year for a single website with all features.
4. Popup Maker

The next best Sleeknote alternative we have on this list is Popup Maker. It's an old yet advanced WordPress popup builder with many cool options. Speed up the process with pre-built themes and the option to enable/disable the popup in a single click.
Even though it features the old Classic Editor, you get many options that make building popups straightforward.
While creating a popup, it's easier to find popup settings well organized in tabs. There, you can access Triggers, Targeting, Display, Close and Advanced settings.
Each setting provides extra options to perfect the popup and generate leads effectively.
Why is Popup Maker a Better Sleeknote Alternative?
Simplified targeting options. Target the popup to a specific area by adding different conditions.
Display presets and popup themes. Align popup in the center, right slide-in, top bar, and left bottom. Use over 7 themes to quick the building process.
Popup close preferences. Change the close button text, use Form Submission, disable re-triggering, and more.
Popup Maker Pricing
Get Popup Maker Pro starting from $87/year for a single site with limited options.
5. Hustle

Hustle is more than just a popup builder. Using this, you can embed forms and slide-in popups additionally. It's developed by the same team of Hummingbird - WPMU DEV. Thus, you can count on Hustle.
What I find liberating with Hustle is that options are sorted. You get different post types for Pop-ups, Slide-ins, and Embeds. It makes clear where you're heading. So, no confusion from the start.
However, when you build popups, Email Opt-ins and Informational popups are only supported. And to complete building the popup, you need to interact with a new UI. But again, everything's sorted, so you'd have no trouble finding the right option.
Yet, going to each option and fulfilling the requirements take time and slow the process. Therefore, the best is to go with pre-built templates.
You get a lot of opt-in fields that make it possible to create a form without using any other form plugin.
Why is Hustle a Better Sleeknote Alternative?
Multiple layout options. Choose different layout options for your WordPress opt-ins with Border, Shadow, and Color customization.
Easy typography control. Change popups typography according to your website's scheme or use a custom font family.
Rich behavior options. Schedule the popup; load it immediately, on scroll percentage, user exit; apply animations, visibility rules, and more.
Hustle Pricing
Get Hustle Pro at $90/year for unlimited marketing campaigns on a single site.
6. Popup Anything

Using Popup Anything, you will be able to pop up different elements. But, the free version is minimal. And the JS (Polyfill) it uses can create issues if your site is already loading it. Yet, still, it's a better alternative even to Sleeknote's Lite or Basic plan.
Likewise Hustle, you get options sorted, yet, in this case, they take a lesser time. A plus one to Popup Anything!
The free version only allows you to create Announcement and Modal Popup with triggers such as Page Load, Link, Image, and Button. Furthermore, just like the rest of the plugins in this list, except FireBox, you need to add content using the Classic Editor. So, if you're using Gutenberg, this can annoy you.
The rest of the options are just like the older versions of WordPress UI where you get fields to enter the info.
Why is Popup Anything a Better Sleeknote Alternative?
Show a global popup with limits. Select where you'd like to launch the welcome popup it offers on Pages, Posts, 404, Landing pages, etc.
Set overlay for selected popups. Customize the popup background by applying an overlay of a specific color.
Use custom CSS and advanced options to optimize the popup.
Popup Anything Pricing
Get Popup Anything Pro starting from $99/year for a single website with a 14-Day Money-back Guarantee.
7. Popup Builder

The last popup plugin for WordPress in our list is Popup Builder. It's another free tool you can use to display Image, HTML, Facebook, and Subscription popups. The plugin offers a unique UI that needs a learning curve.
With Popup Builder, you can display popups in Sidebars, Footers, Content, and Disable Elements. Furthermore, enable rules to show them on Posts, Pages, Categories, and more. Likewise FireBox, it also allows using Triggers to activate popups On Page load, OnClick, and Hover.
Although it features limited options, you can design popups that would match your website's design scheme. Plus, apply different animation effects to make popups look interesting.
Why is Popup Builder a Better Sleeknote Alternative?
Design mobile-friendly popups. Set custom popup size or let it change dimensions automatically based on device type.
Control Page Scrolling. If you want to disable page scrolling behind the popup, you can easily do that. Plus, enable/disable scrolling of the content.
Use the Floating Button. With a single click enable a floating button for different positions.
Supports custom JS and CSS. Improve popup's functionality using custom CSS and JS.
Popup Builder Pricing
Get Popup Builder Pro starting from $49.95/year for 2 websites.
Conclusion: Which Is the Best Sleeknote Alternative for You?
The plugin we discussed above, outperforms Sleeknote. Yet, when it comes to using them, it depends on your marketing requirements and your WordPress skills.
If you're using your website with Gutenberg, FireBox is what you should choose. It lets you build popups right from Gutenberg as well as provides you with pre-built templates. No use of any 3rd party JS. Thus, you can expect performance.
If you need a plugin that offers drag and drop functionality and quickly lets you build a popup for both Desktop and Mobile, you can go with Brave.
For most capabilities, you can go with both FireBox and Hustle. With these, you get to popups as well as slide-ins.
If you're looking for simple yet effective marketing tools based on Classic Editor, then Popup Box, Maker, and Builder are helpful.
And if you're still confused, you can try these plugins for free to find out what's good for you. Our recommendation, you should start with FireBox. Why? Because you don't have to leave the default WordPress interface to build a popup.