Your website has a great layout. You add quality content and receive colossal traffic each week. And you're doing everything to get more and more potential leads. Yet, you do not see any good results. Then guess what, it's not your fault or something missing on the site. Instead, it's the usual behavior of online users.
Based on 2017's research, it's found that 60% of the users arrive on a site, return without involving with the services or products the site has to offer. And it's the most troubling issue that many marketers and site owners face. Nevertheless, you can lower this percentage drastically if you display popups on your site— especially the exit-intent popup.
Therefore, in this tutorial, I will show you how to easily create an impressive exit-intent popup in WordPress using a robust popup builder plugin. So, when you display an exit-intent popup, the website can win the customers effectively without creeping them out.
But before we create our magic potion, the exit-intent popup, let's know a bit or two about it, first.
What Is an Exit Popup?
An exit-intent popup is a web page element that appears when users are about to leave the website – even if they're switching tabs. It's similar to a modal window; however, the only difference is that users can interact with content behind the popup while it remains on the screen. Whereas a modal requires the user's immediate action to continue the interaction. The following visual briefly explains how an exit popup works.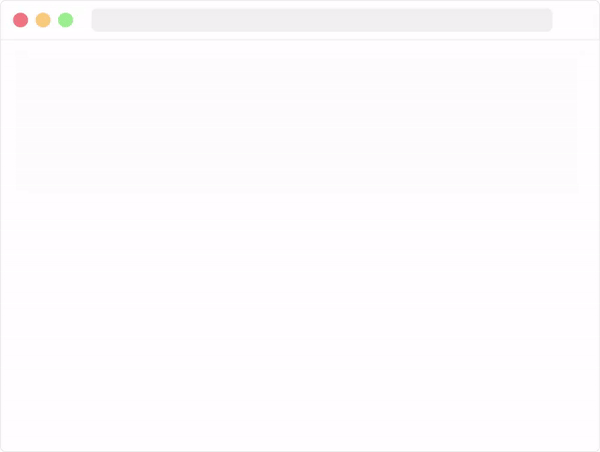 An exit popup uses exit-intent technology that tracks the user's mouse movement inside the browser's active window area. Search bar, toolbar, and browser extensions aren't considered active window areas.
Thus, when the cursor moves outside the active window area, even for search, the popup gets triggered and appears on the site. For mobile phones and tablets, the exit-intent popup tracks users' intent to leave the website through different triggers. Like, such as back button pressing and upward scrolling percentage.
Do Exit Popups Work?
Unlike regular popups, an exit popup is less intrusive as it doesn't appear to interrupt the users when they're interacting with particular content or have just arrived on the site. Moreover, you're utilizing users' departure positively through the exit popup. Instead of asking users their name and email on immediate page load, you're allowing them to first take useful resources from your site with an exit-intent popup.
Therefore, it's useful to use exit popups to try the last or even first attempt to motivate users to take action by showcasing convincing offers and deals. By doing so, you can save 10 to 15% of lost visitors, which helps recover the cart abandonment rate or generate more leads, which eventually results in more conversion rate.
In addition, exit popups improve other statistics of the site, such as,
User session duration
Bounce rate reduction
Email list building progress
So, if you're asking do exit popups work, then the answer is Yes, they do. However, you should apply some general practices on your exit popup to make them less intrusive and something that doesn't scare off your visitors.
Use creative language for the popup message with terms like "Get $10 Off," "Don't go," or "Wait, you've unlocked the secret offer!" that can grab users' attention and motivate them to continue with the offer.
Personalize the Content- different users, different popup designs, and messages.
Make the closing element easy to noticeable.
Use fewer opt-in fields.
Don't eliminate the necessary components: The Offer, Headline, Media, and CTA.
When to use Exit-Intent Popups
To utilize your exit-intent popup to the fullest, it's essential you use them at the right time. And by the right time, it means for the right purpose & industry. It would help to keep in mind what business industry your website derived from and how much it is supposed to receive bounce rates. Some websites receive 10-30% on average, so some hit bounce rates near 70-90%.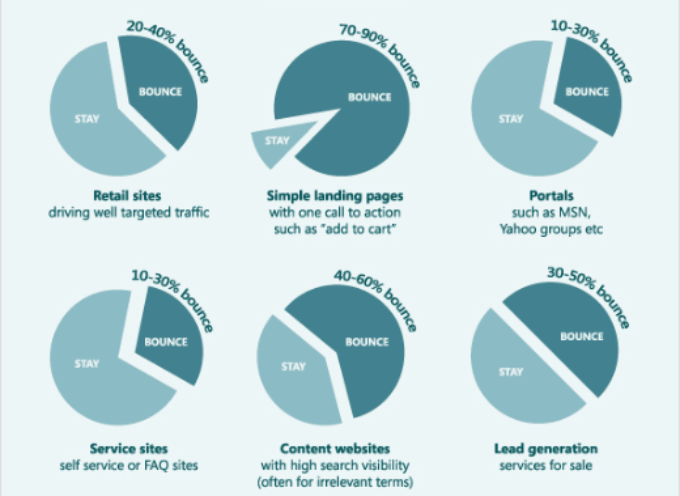 For instance, services websites tend to hit a bounce rate of 10-30%. And if your website is of service and you're receiving a bounce rate of 20%, then it's pointless to display an exit popup for that purpose. But if it's 40%, you should go for it. Apart from bounce rate reduction, there are more occasions when you should use an exit-intent popup, such as,
Lower cart abandonment
For turning abandoning visitors into email subscribers
Increase social media following
Recommend alternative products
Collect visitors' feedback
How to Create an Exit-Intent Popup in WordPress
We've looked at what an exit-intent popup is, how it works, and whether it provides benefits to an online business or not. Now, it's time to create our popup for WordPress, and the following steps will help you do so effectively.
#Step 1: Get FireBox Pro
Creating an exit-intent popup in WordPress isn't hard, but if you don't use an intuitive popup builder, it could become challenging and less productive. Therefore, to streamline the popup building process, I will use our highly functional WordPress popup maker, FireBox. It's a robust popup builder for WordPress that provides you with tons of features and options to build different types of effective popups in no time.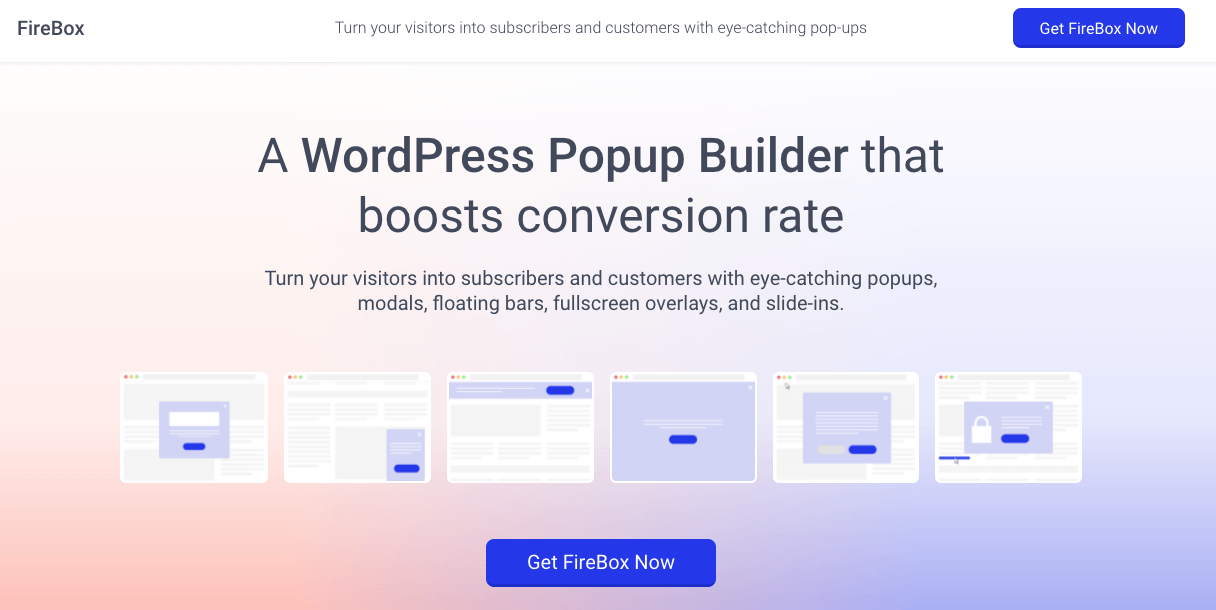 To create an exit-intent popup, first, we need to get FireBox Pro. The premium version, along with the exit popup feature, opens several other options to make your popups more functional and effective.
#Step 2: Choose Exit-Intent Popup Template
After getting FireBox Pro, first, install it, and then follow this guide to activate the license.
Once your FireBox is activated, create a new popup with a pre-built template by going to the FireBox → Dashboard → New Popup.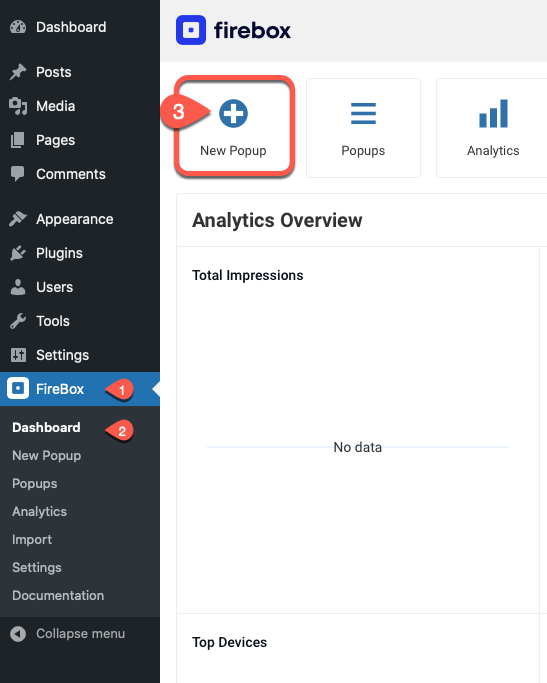 It will open the FireBox library.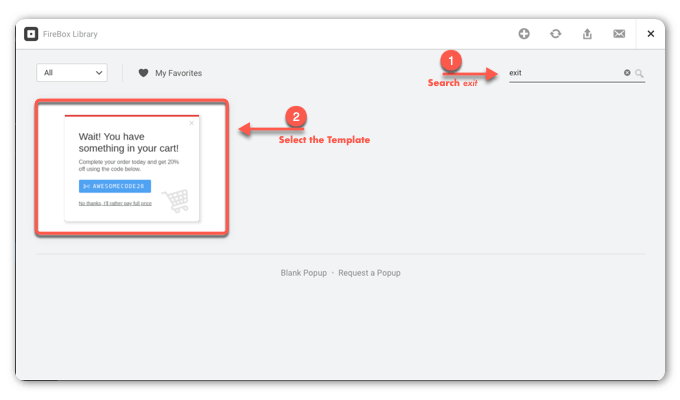 Here, search exit in the top right search bar. This will display a pre-built exit-intent template available with the plugin. Simply select it, and you'll be directed to the WordPress editor.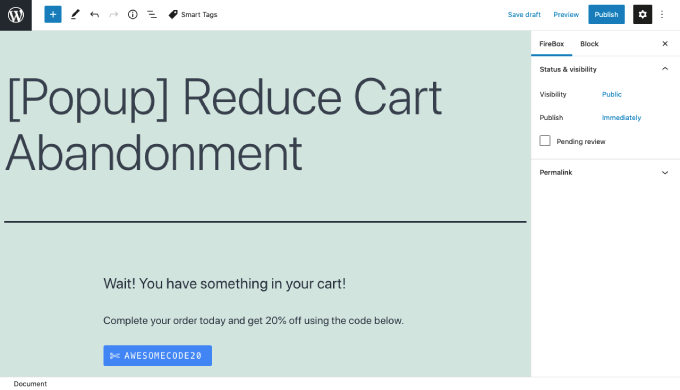 With a pre-built template, everything's configured already. You don't have to make any changes, except if you want to display the popup on specific pages. If you don't want to make additional changes, click Publish in the editor, and your popup will start to appear when users try to leave your site.
To make changes, consider the following step.
#Step 3: Configure Popup Appearance
On your popup editor window, scroll down to FireBox Settings to apply different options on your popup's working.
Here, you get a Design tab that allows you to change the popup's dimensions and other appearances.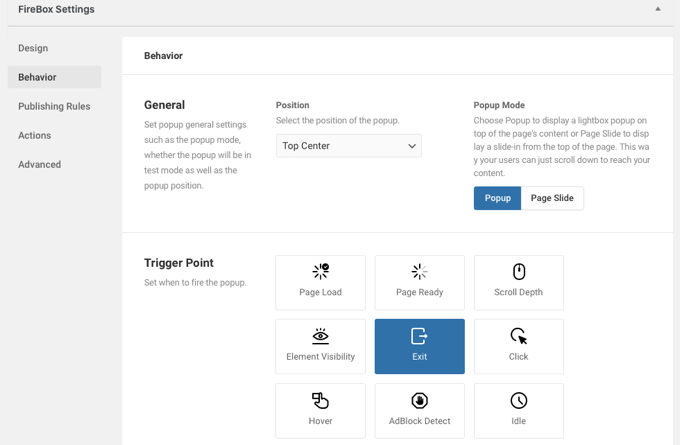 The Behavior tab provides you with options to change its position, triggers such as Exit, Click, and more.
To display the popup on specific pages, you need to open the Publishing Rules tab that provides you with the options to select where you want to show the popup.
There are other tabs available to help you apply advanced settings on the popup. According to your requirement, apply the changes, and once you're done, simply publish the popup. And it will appear like the following image.
And that's it; we've created our highly functional exit-intent popup in WordPress using the intuitive popup builder FireBox.
Wrap up
Whether regular customers or first-time arrivals, website visitors will leave the site without looking back. And there's nothing we can do to keep them there except an exit-intent popup. So, by utilizing it, if we can build a potential email list to run successful marketing campaigns; then, it's worth a shot and a must-do marketing strategy.
With intuitive and feature-rich popup builders like FireBox, this process of convincing returning users to take action becomes seamless. Our popup builder gives you a handful of features to make an exit-intent popup or any other popup that meets your requirements in any given situation. Therefore, building popups in WordPress with FireBox helps you achieve your goals with a high success rate. Try it today and discover it for yourself. We offer a 30-day money-back guarantee, so there's no risk in trying.
I hope this article helped you understand why we should use exit-intent popups and the best way to create them. Still, if you have any doubts and views, let me know in the comments.