We're excited to inform our community of users that we've just released a new version 1.1 of our FireBox WordPress plugin. With this new update, you now have access to a popup library with over 100 elegant design templates, new template filter options, and complete Gutenberg support.
Since our first launch of FireBox, our main target has always been to offer our users the very best WordPress popup plugin features anywhere in the market. We believe anyone should be able to create high-converting WordPress popups and do so quickly too. This new release has moved us a step further in achieving this goal.
In this release, we've re-engineered a much-improved user interface (UI) that will help you get your popups up and running in no time. You'll also be able to preview your designs in real-time before publishing them.
Let's take a closer look at some of the most exciting elements of this new popup library.
New FireBox Popup Library Features
FireBox has always been arguably the best popup plugin in the WordPress space. Older versions of the plugin packed some of the most extensive features you'll need to boost your site's conversion rates.
From smart popup triggers to powerful analytics features, precise user targeting, and all-around mobile-friendliness, the plugin offered all the key features you need for a seamless and rewarding user experience.
With this new plugin version, the major focus is to help you create very elegant popup designs in the shortest time possible. We've achieved this by further extending the popup template library and upgrading the Gutenberg Block Editor compatibility.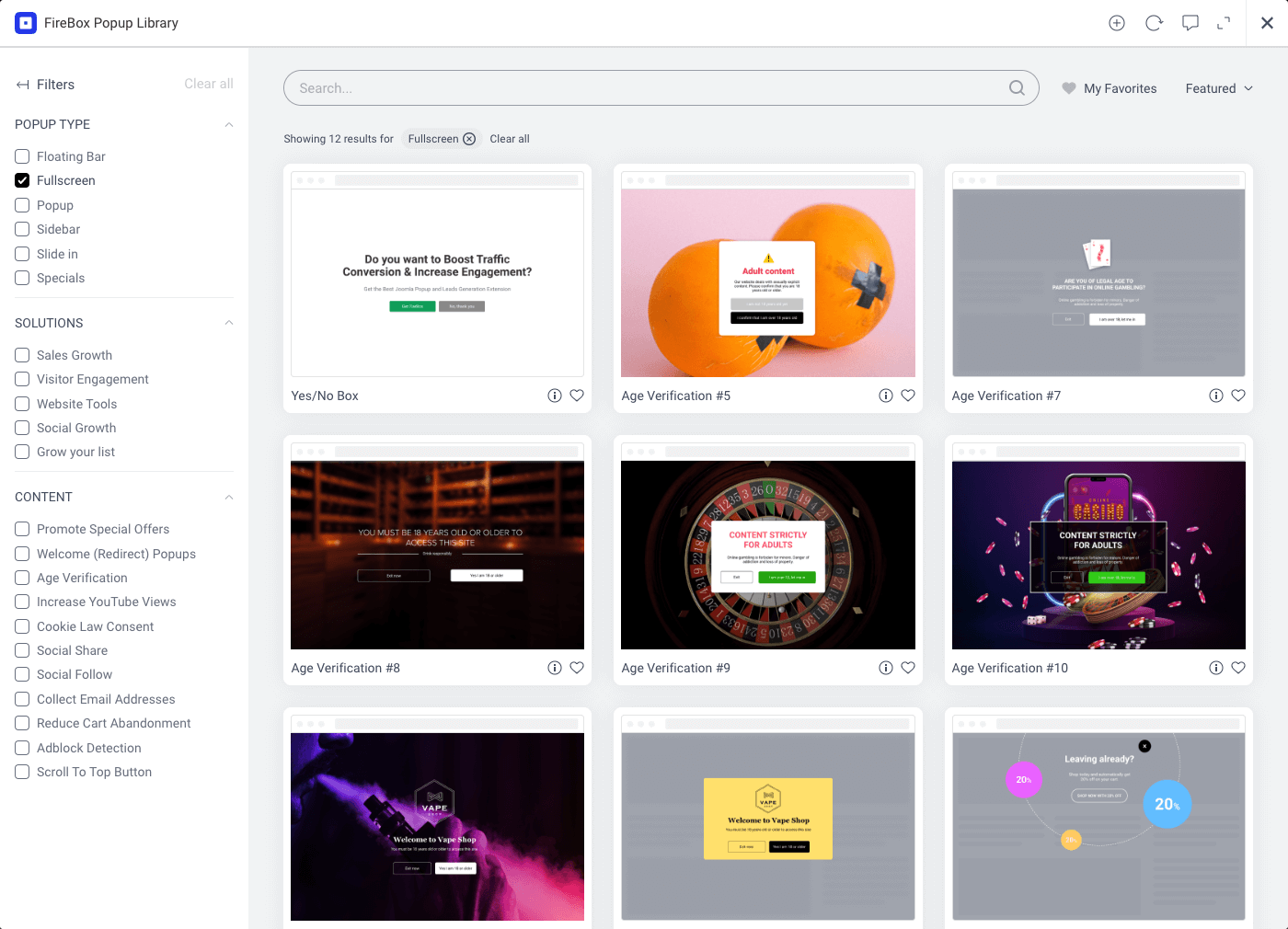 Now, you'll be able to enjoy:
80+ brand new popup templates
Powerful template filters based on popup type and campaign goals
Extensive Gutenberg support
A re-designed UI
More interesting future updates
Ready to see some of these new key features in action? Let's dive in!
Brand New Template Library Collection
One of the quickest ways to create a WordPress popup is to use a ready-made template. When it comes to design templates, it's always important to have both variety and flexibility. In this new version of FireBox, we're happy to reveal a new template library that offers both.
The older version of FireBox already included over 30 popup templates that eliminated the need to build your popup from scratch. In this update, we've made everything even better by adding more than 80 new templates.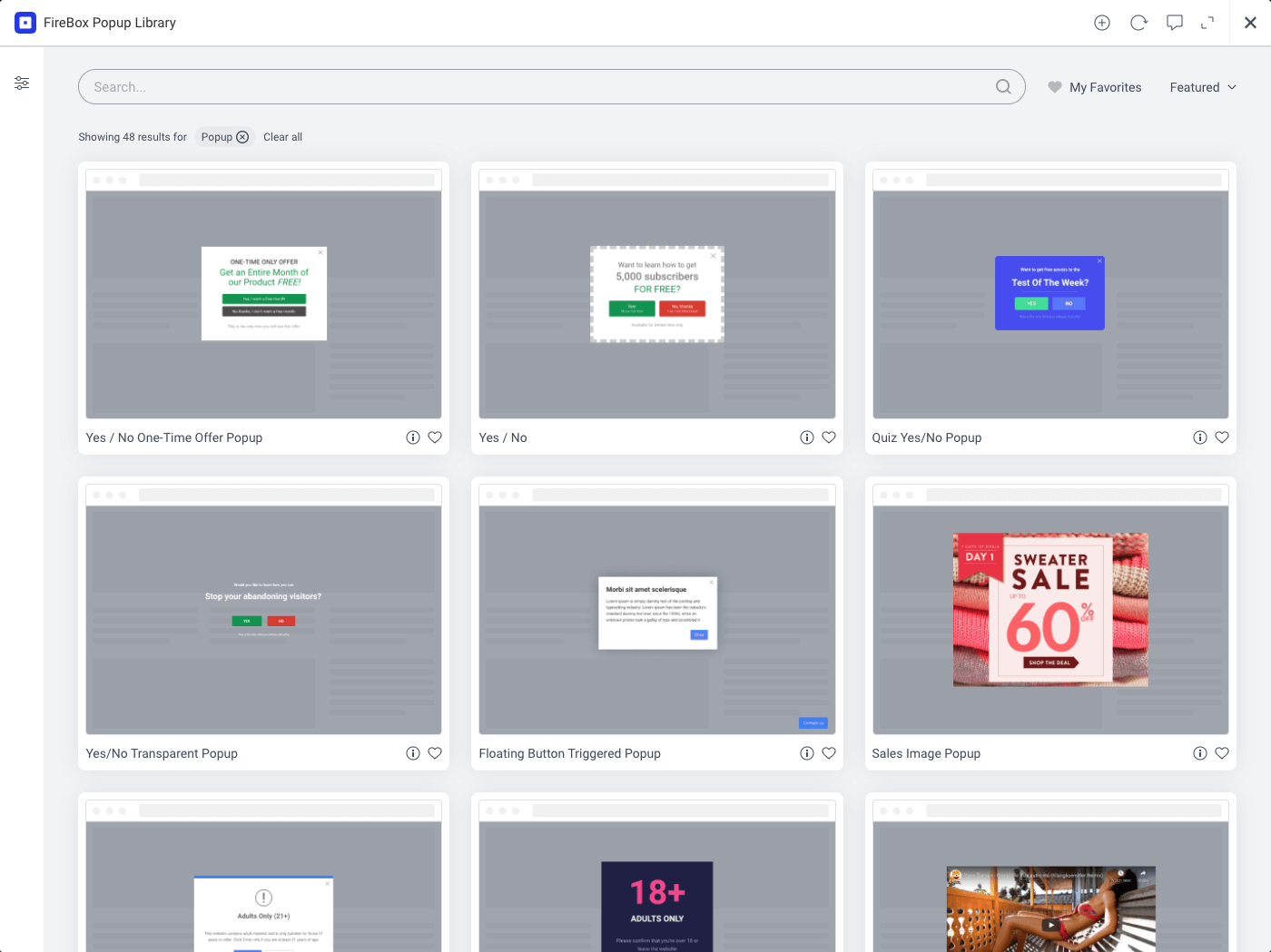 This means irrespective of the nature of your WordPress marketing campaign, you'll be able to find a perfect solution for your needs.
Worried about having to sift through over 100 popup templates? These 4 features will surely boost your user experience and help you navigate the template library faster and more easily.
Template filters and search: You can filter the entire library based on the popup type, marketing solution, and goal. You get to pick from 6 popup types which include floating bars, fullscreen, and slide-in popups. Marketing solutions can be sales, engagement, etc, while goals can be social share, special offer promotion, adblock detection, etc. There's also a search bar at the top of the library where you can enter simple keywords.
Template live preview: Eager to see what a template looks like before adding it to your popup design? FireBox allows you to preview it on the 3 common screen sizes: desktop, tablet, and mobile.
Add templates to favorites: You can add specific templates to the 'favorites' section. This makes it easy to use them in the future without having to search or use filters again.
Compatibility information: Before using any template, you can also confirm its compatibility with your WordPress version. Each template has an information tab where you can find such details.
Better still, we also intend to add new elegant popup designs to the template library every month. You'll be able to access these new templates by simply clicking the refresh icon on the library's toolbar.
Bear in mind that you'll need to activate your plugin license to be able to do this. We'll show you how to do this later.
Extended Gutenberg Block Editor Support
FireBox remains the only WordPress popup plugin that is based entirely on the Gutenberg editor. With each new software update, WordPress has continually improved the editor's page editing capability.
We have also taken full advantage of these incremental upgrades. This means creating and editing your WordPress popups will be just as simple as creating a simple post or page. Gutenberg blocks make the content creation process much easier and more modular.
This new release adds a 'FireBox' section with unique blocks like 'Buttons' and 'Container' to Gutenberg. You can use these blocks to build your popups from scratch. You also get a 'FireBox' block that allows you to import popups from your library.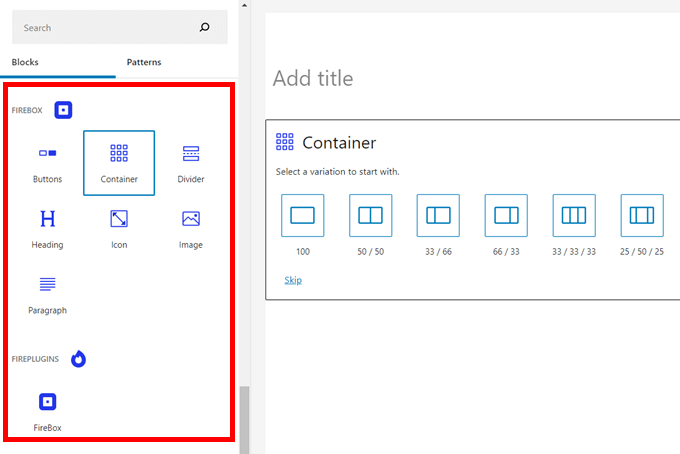 This type of robust Gutenberg compatibility brings a lot of benefits to your popup editing experience. Gutenberg blocks allow you to:
Create rich content and complex layouts with zero knowledge of CSS or HTML.
Save and reuse blocks in future popup designs. FireBox templates are also built based on Gutenberg blocks. This makes them fully customizable even after importing them to the Block Editor.
Enjoy a user-friendly What You See Is What You Get (WYSIWYG) editing experience.
Quickly embed different types of content from multiple sources.
Create a fully functional popup without having to leave your WordPress dashboard or spend time getting used to a new editor interface.
Since Gutenberg is a core WordPress feature, you can also be sure to enjoy all the latest features, bug fixes, and improvements. All this by simply updating your WordPress version.
Additionally, we're currently working on our own Gutenberg Block Collection plugin, FireBlocks. This plugin will add all the necessary blocks you need to build fully functional posts, pages, and landing pages in little to no time. Once it's ready, it'll include all future updates to the pop-up library as well.
Getting access to the new FireBox popup library requires a very simple process for both new and existing users.
For existing users, all you need to do is ensure that your site is set to receive updates automatically. You can do this by following the steps in this tutorial on how to activate FireBox Pro.
As a new FireBox user, you can get started with the new popup library by getting your copy of FireBox Pro.
Coming Up Next
As a small software team of WordPress experts, we're consistently working hard to expand our product offerings and improve our existing products. This means you can always expect new and exciting updates to our already-powerful FireBox plugin.
In the coming weeks, our major focus is to add a new Gutenberg Forms block to our popup plugin. This addition will make it possible to build popup forms and other types of forms from your WordPress dashboard easily.
The next update will also include new popup templates as we promised earlier. Our ultimate goal has always been to offer you the best all-in-one WordPress popup solution at the best bargain possible. And we'll keep improving on that with every new release.
We hope this new update will enhance your WordPress marketing campaign workflow and boost your site's conversion significantly, If you have any questions or feature requests, kindly let us know in the comments section below.