Looking for the best WordPress anti adblock plugin for your website?
These tools will help you detect site visitors using adblocking software. You can then show them targeted notices to whitelist your site. This way, you no longer have to part with all the ad revenues that help you offer great value to your customers.
Adverts have always been a major topic of debate on the internet. Most consumers hate them. This explains why at least 42.7% of internet users use ad blocking software. But business owners need these ads to keep offering free services and maximize profit.
It makes sense for your site visitors to want to tone down the number of ads they see on the internet. However, you need the ideal workaround for this situation. Ideally, you don't want to turn away adblock users. This could be bad for your site's traffic, conversion, and user experience.
The tools we'll show you in this article are not just simple adblock detectors. After detecting adblock users, you can also use plugins like FireBox to trigger a message with a convincing copy.
Before we talk more about this, let's examine how your business can benefit from using a WordPress anti-adblock plugin.
Why Install a WordPress Anti Adblock Plugin?
Over the years, more businesses have been spending more on internet advertising. In response to the overwhelming number of ads, customers feel the need to protect themselves. Whether it's for privacy sake or just user experience, internet users continue to turn to adblockers.
The typical adblocking software is built based on filters. When a user visits your site, the adblocker scans your server information. If it finds an element that matches any content on its filter list, that element won't be displayed.
No doubt, consumers find adblock software very useful. But as a site owner or content creator, there are lots of downsides to these tools.
Even if you're not looking to generate revenues from ads, some of these tools can hide Call to Action (CTA) boxes, buttons, and even images on your site. This happens when these user interface (UI) elements have file names or keywords related to advertising.
As a safety measure, it makes sense to use an adblock detector to counteract the impact on your business. The traditional way to do this is to add some Javascript code to your theme's header.php file. But this method requires some developer experience and may not always be effective.
This is where WordPress anti adblock plugins come in. They offer a non-technical and inexpensive solution to an otherwise complicated problem. The right WordPress adblock plugin not only detects every adblock user visiting your site.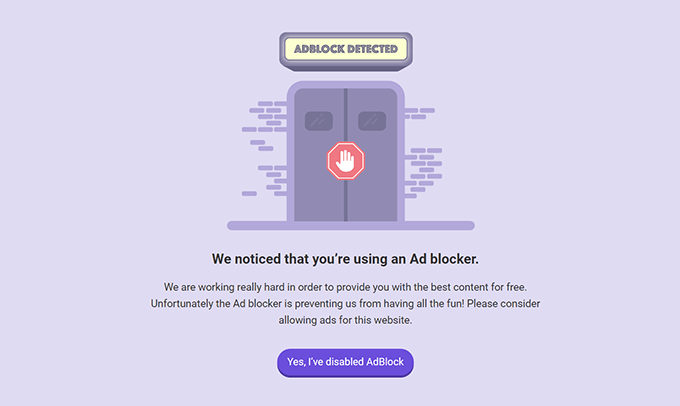 You'll also get to decide your next step of action. First, you can choose to hide your entire site from these users until they disable the adblock software. Otherwise, you can make it optional for them to disable the adblocker or whitelist your site. This option leaves room to simply close the popup notice.
Let's look at the best solutions for achieving this in your WordPress site.
5 Best WordPress Anti Adblock Plugins
If you're looking for the easiest way to detect adblock users, then anti adblock WordPress plugins are the way to go. But there are quite a number of options available out there.
The ideal adblock detector solution offers extra features that complement the basic adblock detection functionality. This way, you won't need to install multiple plugins to deliver each feature separately. The first plugin on this list ticks this box perfectly.
1. FireBox

Looking for the perfect all-in-one solution for your WordPress adblock plugin needs? Then FireBox is easily your best bet. The tool doubles as both an ad blocking detector and a WordPress popup plugin. It eliminates the need to install multiple plugins that may slow down your website.
This also means you're getting a very powerful software solution that delivers multiple lead generation and conversion features.
Among several other types of triggers, you can use FireBox to fire a pop-up notice each time an adblock user tries to access your site. In my experience, I've found that the adblock trigger works effectively all the time. So, you can be sure most adblockers won't be able to evade it.
Since it's a full-fledged popup builder, you can display your adblock warning in multiple ways. Some interesting options include fullscreen, sidebar, slide-in, and floating bar popups.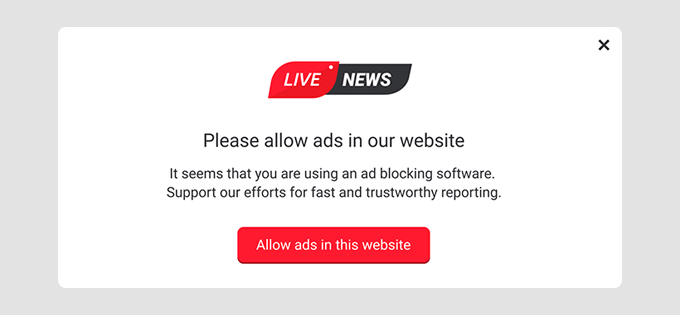 The plugin supports both the passive and aggressive approaches to tackling all types of adblock software.
In other words, you get the option to either block these users until they disable the ad blocker or ask them to do so optionally.
FireBox also comes developer ready. You can configure almost any box on your WordPress site to respond to the "AdBlock Detect" trigger. This is all powered by the JavaScript Events Application Protocol Interface (API).
Since it's completely dependency-free, you can always expect top-notch performance. Unlike some other plugins that use jQuery, you won't have to deal with more JavaScript load.
Key Features
Precise WordPress adblock detection. FireBox excels in the basic functionality required of every adblock detector. Irrespective of the type of adblocker used, you can be sure the plugin won't miss.
Multiple popup triggers and types. Beyond being a WordPress anti adblock plugin, FireBox allows you to show targeted messages based on over 10 conditions. Whether you want to fire a fullscreen or page slide popup when the mouse is idle, when a specific page element becomes visible, or after clicking a button, you get all the options.
Elegant pre-made templates. As a powerful WordPress popup builder, the plugin packs several ready-made templates that help you set up all your popups in no time. These templates make it easy to get going with no coding or even WordPress experience.
Flexible editing experience with tons of customization options. If you choose, you'll also be able to design your popup messages and notices to suit your brand. FireBox is fully compatible with Gutenberg Block Editor. Style your popup with everything you need to convince adblock users to whitelist your website. You can also set conditions to delay the popup message or hide the close button.
Pricing: FireBox Pro starts at €39/year for 1 website. You also get a 30-day money-back guarantee. Alternatively, you can opt for the free lite version but it doesn't include the adblock detection feature.
2. AdUnblocker

The next plugin on this list is arguably the best option if you're looking to save some bucks. AdUnblocker packs some of the most powerful adblock detection capabilities for any free plugin in the WordPress repository.
The tool uses advanced randomized file and class naming systems to make it hard for adblockers to block it. This means the plugin can reliably detect every time ads from AdSense and other major ad networks aren't running. It then allows you to show some text requesting the adblocker user to whitelist your site.
If the plugin doesn't seem to work on your site, then your ad network is probably not yet supported. You can reach out to the plugin developer to resolve this.
But unlike FireBox, AdUnblocker offers very limited customization options for your popup notice. All you get is a basic "Adblock Detected!" message with a simple title and content. If you need to edit the content of this popup message, you'll need to upgrade to the plugin's pro version.
When it comes to styling options, all you get is the ability to change the background, overlay, and text color.
Key Features
Adblock detection for Google Adsense and other major ad networks. Works for almost all ad blockers. You can serve ads from all the major ad networks to all your customers.
Random class and file names. AdUnblocker uses a randomized naming system for all file and class types. This makes it significantly harder for ad blocking software to detect or block the tool.
Handful of popup editing opportunities. Choose from 3 different display layouts and make basic changes to the look and feel of your popup notice. You can also delay the message for a couple of seconds or decide to hide the close button. Other customization options include image and shortcode support.
Pricing: All the main anti adblocking features are available in the free version. Upgrading to the pro version gets your features like the ability to change the message title or delay messages.
3. Ad Inserter

What about a truly multipurpose WordPress plugin that caters to everything ads on your website? As its name implies, Ad Inserter is an ad management plugin that offers advanced options to add and manage different types of ads on your website. On top of this, you get an additional feature to detect adblock users too.
Once the WordPress adblock plugin detects that your ads aren't running, you get two options to deal with this. You can either show a popup message as we've seen earlier or redirect the adblock user to another page.
The second option is very useful for redirecting adblock users to a specific landing page to ensure some sort of conversion. But this approach can easily affect your site's user experience negatively.
The plugin is presently the most popular AdSense or ad management tool in the WordPress repository. It enjoys thousands of downloads daily. This is largely thanks to its numerous ad insertion features that work effectively.
Key Features
Show popup or redirect to page on detecting adblock users. Just like FireBox, Ad Inserter also allows you to redirect adblock users to a separate landing page. If you're keen on this particular feature, this tool offers it for free.
Serve all types of ads anywhere on your website. Tons of advanced advertising features with support for Google AdSense, Ad Manager, Amazon Native Shopping Ads, and even rotating banners. You can also add copy-paste opt-in forms, header scripts, and custom JavaScript before or after posts, images, excerpts, or anywhere on your site at all.
Serve separate ads on AMP. If you're running Accelerated Mobile Pages on your site, this plugin allows you to insert different ad codes on these pages. This can make your mobile pages more user-friendly even with your ads running.
Pricing: The adblock detection feature is available on the free version. The pro version includes additional features like geo-targeting, A/B testing, click fraud detection, and lazy loading.
4. DeBlocker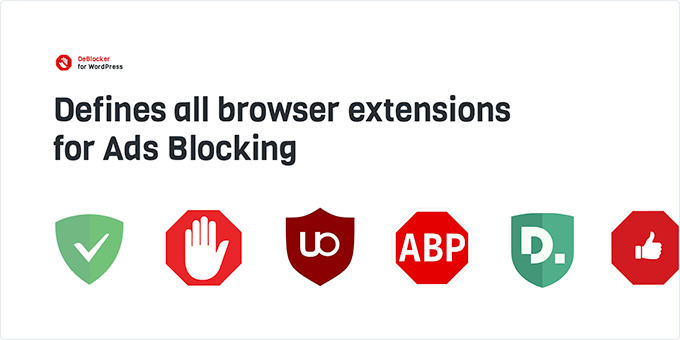 This tool is an exclusive premium WordPress anti adblock plugin that works efficiently with almost all types of adblocking browser extensions. Whether it's AdBlock, AdBlock Plus, or uBlock, DeBlocker will intelligently evade its filters.
The present version of the plugin uses an advanced dynamic script and improved work logic that is very hard for adblockers to detect. But with DeBlocker, you can only respond to adblock users in the aggressive mode.
Once the pop-up message is displayed, the user won't be able to use the context menu or hotkeys until they turn off the adblocking software. For a paid tool, this is quite limiting. But you do get the option to choose from two popup templates and customize the popup window a bit.
If you're particular about backend UIs, this solution offers arguably the most modern design on this list.
Key Features
Blocks the use of almost any type of adblocker. DeBlocker does an excellent job detecting all kinds of adblocking extensions on almost type of browser. Its dynamic script and work login also make it really hard for these extensions to detect it.
Choose from two pop-up layouts. Display your popup notice either in the fullscreen mode or modal window the user can easily close.
Fully compatible with WordPress themes and plugins. The plugin works seamlessly with popular themes like Avada, Jupiter, Enfold, and TheGem. You won't have any issues with important plugins like WooCommerce, Elementor, and Yoast SEO. The plugin also uses minified native JavaScript which ensures optimized performance.
Pricing: $29 for a single website with 6 months of updates included.
5. CHP Ads Block Detector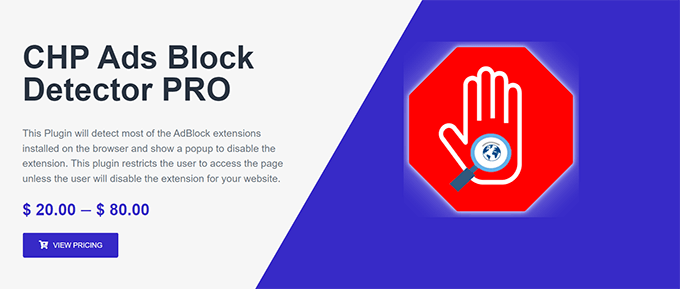 Our last entry on this list is definitely not the least. CHP Ads Block Detector packs a lot of handy features that make it worthy of consideration when looking for a WordPress anti adblock plugin.
The WordPress adblock detector includes lots of customization options for the popup message. The majority of these options are unavailable on the free version of the plugin. But you can expect to enjoy all the basic anti adblocker features even without paying a dime.
Apart from our number 1 pick, FireBox, this plugin is the only other tool in our list that allows you to stick the popup notice at the bottom or top of the page. But whichever popup style you choose, CHP doesn't let adblock users access the page until they've disabled their adblock. This may not always be the best approach.
Key Features
Well tested for multiple popular adblock extensions. The plugin works seamlessly with all major adblock extensions. Opera built-in adblock services like Brave are accounted for as well.
Customize popup and duplicate settings across sites. Edit the popup message's style, title, content, and add custom buttons. You can also import and export plugin settings from one host or production site to another.
Advanced Adblock analytics. CHP's premium users get advanced analytics features that allow you to track and learn more about both adblock users and normal site visitors.
Pricing: You can choose from 3 licenses that start from $20 for a single website project. The free version is also powerful but limited by certain customization options and analytics features.
Which Is the Best WordPress Anti Adblock Plugin for You?
When it comes to detecting adblock users and recovering lost ad revenues on your site, you can hardly go wrong with any of the plugins we've shared above. But each of these WordPress adblock plugins excels in different departments.
When choosing, the major deciding factor should be the extra features each plugin offers. Which of these features matters most to you? If you're still wondering which solution is best for your project, here's a quick summary of each plugin's strong suit:
Still, have unresolved questions about WordPress anti-adblock plugins? Kindly let us know in the comments section below.