You asked, we listened. We are delighted to announce that we made it to give our users, one of the most requested features. FireBox Zapier integration! You can now connect your favorite WordPress Popup Plugin to 5,000+ (really? yep!) apps through Zapier, a SaaS platform that connects apps together to help you create workflow automations that save you many hours and headaches.
Do you want to create a new row in Google Sheets every time you collect a lead? Send channel messages in Slack whenever someone submits a form? Create Trello cards every time you receive a new form lead? You can do that and so much more now.
What is Zapier
Zapier is a web-based automation platform that allows you to connect with the apps you love without coding or relying on a developer to build the integration. Apps that can connect easily with FireBox include Gmail, MailChimp, Google Sheets, Trello, Asana, Slack, Quickbooks, and more.
With its intuitive interface, you can connect the apps you use daily with FireBox and easily automate your workflows. Your integration options are endless!
How Does it Work?
Once you connect FireBox with Zapier, every time you collect a lead, they are sent to Zapier. Through the Zap the lead is then sent to the connected apps along with the additional fields you have mapped. There is no more step required. All the leads collected through FireBox popup forms will be sent to your Zap.
What Can I Do with FireBox and Zapier?
The sky is the limit here! We'll give you a few examples and you can take it on from there:
Create Database Items in Notion
If you're using both Notion and WordPress and you want to integrate these tools to reduce the time and effort spent on manually migrating data between your WordPress forms and Notion databases we got you covered. Use this Zap to add or update a database item in Notion when users submit a form entry.
Add new Rows to Google Sheets
With Google Sheets, you can create, edit, and share spreadsheets anywhere, and get automated insights from your data. By using this Zap you can connect your WordPress site to Google Sheets and create a new spreadsheet row or column whenever you collect a new lead with FireBox!
Add or Update Google Calendar Events
Google Calendar allows you to manage your schedule and share events with others. With our Zapier addon, you can automatically send form entries to Google Calendar and create a new event or update an existing one by just submitting a WordPress form!
Create Leads or Contacts in Salesforce
Salesforce is a leading enterprise CRM application. If you're looking for a way to integrate Salesforce with your WordPress forms, we got you covered! You can connect FireBox with Salesforce and add contacts or leads to your Salesforce campaigns whenever a new form submission is stored on your WordPress site.
Create Invoices or Expenses on FreshBooks
Are you using Freshbooks to send invoices and track your expenses? Are you looking for a way to integrate WordPress with Freshbooks? With this Zap all these tasks are possible. Now you can create an invoice, an expense, a time entry, or even add a new client when users submit your form.
Create Contacts in HubSpot
If HubSpot is your all-in-one stop for all of your marketing software needs we have great news for you. You can connect your WordPress opt-in forms with HubSpot and create workflow automation with a few clicks. Use this Zap, if you want to add a contact to your Hubspot list or create a calendar task when visitors submit your popup forms.
Send SMS Text Messages using Twilio
Sending SMS messages from your WordPress site is now possible! Connect FireBox with Twilio and send SMS messages automatically every time your popup form receives a new lead!
Create or Update Google Contacts
Would you like to create a contact in your Google account automatically from your WordPress form? No, need to use a separate plugin. Now, using FireBox, when someone submits your WordPress popup form, you can automatically create or update contact details in your Google account.
Create Tasks in Trello
Stay on top of your task list by automatically creating, updating, and organizing them in Trello using your WordPress forms. Instead of spending hours copying your tasks manually to Trello, use our Zapier addon to connect FireBox to Trello so you can automatically create Trello cards when users submit your form.
Getting Started
You'll need two things to get started.
FireBox Pro 1.2.5+. Since the Zapier addon is a Pro-only feature you will need to purchase a license.
You will need a Zapier account, so if you don't already have one then head on over and create a free account now.
Once your Zapier account is ready, log into your Zapier account and click this link. You will see an invitation screen that looks like the screenshot below: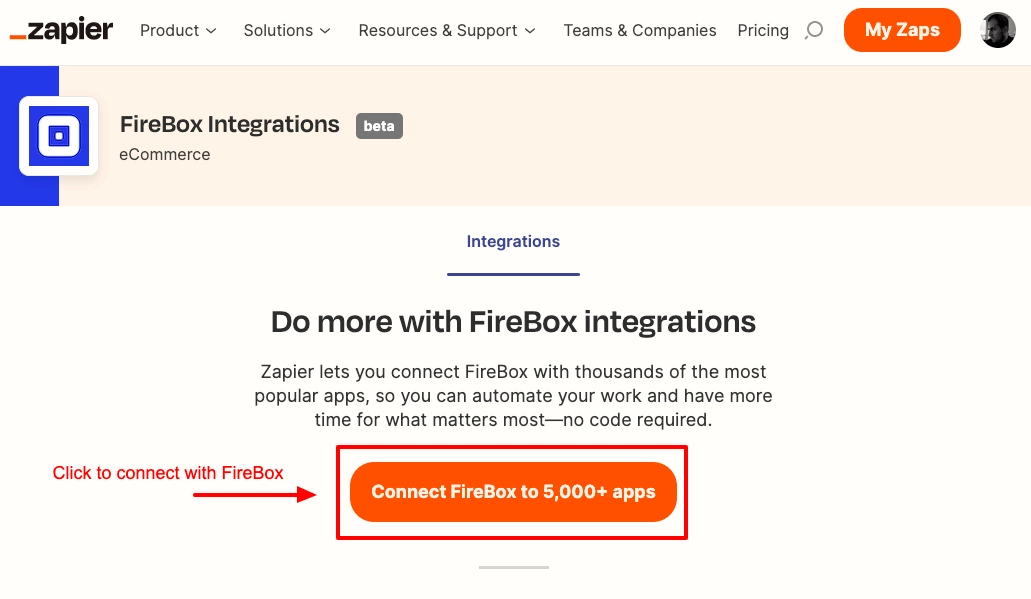 Next, you will need to enable the connection between FireBox and Zapier. To learn how to make this happen follow our detailed our How to connect FireBox with Zapier guide.
Conclusion
At FirePlugins, we're driven by the goal of removing repetitive manual tasks that hamper productivity and keep your teams from focusing on more important work. We're always on the lookout to integrate with other like-minded solutions if it'll give our users more opportunities to save themselves from data entry dread.