Building websites with WordPress is marvelously popular. Over 43% of the top 10 million websites in the world are built with it. And people go for it because of its adaptability to customizations and loads of tools available to boost the website's functionalities.
Gutenberg Block Editor is one of these tools which allows users to build web page elements of any kind. And if you're wondering what Gutenberg is, then in this blog post, I'll give you the details of it.
We'll look at some of the best Gutenberg blocks plugins. So, you could utilize the editor to the fullest and build websites per your imagination with the power of WordPress, Gutenberg, and more.
Exciting, right? Let's get started!
What Is the Gutenberg Block Editor?
Gutenberg is the default WordPress content editor that allows users to create different web page elements. Not only does it allow you to add text to the page, but you can also transform a particular page into something new.
Moreover, to utilize it, you don't have to know to code the same as you do with WordPress page builders.
However, unlike other pager builders, where you get Widgets and Modules, the Gutenberg editor offers Blocks. Therefore, sometimes WordPress users refer to it as WordPress Blocks Editor.
For instance, if you need images on the page, you can use the Image Gutenberg Block. And when you open a page or post, this is how the Gutenberg editor looks.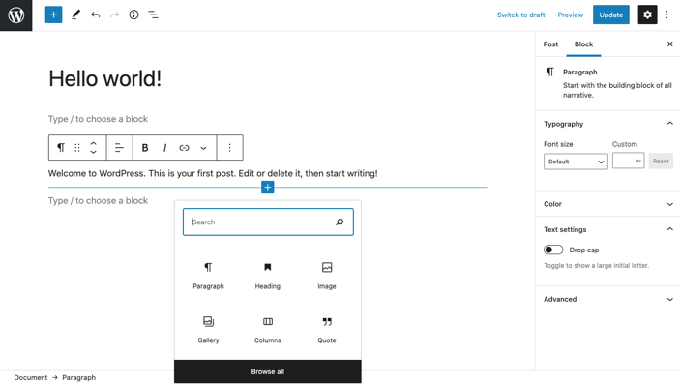 It was introduced to WordPress 5.0 in December 2018, succeeding its predecessor, the Classic Editor. Since then, it has evolved so much and is moving towards becoming a full-site editor. As a result, you no longer have to use third-party page builders to customize your WordPress websites.
The latest version of WordPress 5.9 (as of the time of writing) introduced the Full Site Editor as a minimum viable product (MVP), currently available under Appearance > Editor bringing you to the next stage of page building experience.
Gutenberg vs. Classic Editor: Pros and Cons
It's been three years since saying goodbye to the Classic Editor, but still, some users prefer it. Therefore, it's worth seeing why some users prefer the new Gutenberg Blocks Editor and others do not.
Pros
It's easier to use and requires no technical knowledge to create complex layouts.
Fast & efficient - Provides blocks for different web designing needs.
WYSIWYG — What You See Is What You Get.
Works well on different device types.
Simplified embedding of different content elements - Video, Image, GIF, and more.
You can reuse blocks.
Insert widgets into your page without 3rd-party plugins.
Cons
The Gutenberg editor has a learning curve.
Gutenberg lacks features versus other Page Builders
Some users find Gutenberg hard to use because you must place blocks whenever you change/add something.
Adding custom CSS is a bit hard.
If you use the Custom HTML block, it will turn spaces into paragraph tags.
The Best WordPress Gutenberg Block Plugins
Here are the best WordPress plugins to boost the functionality of the Gutenberg editor. The following list is not in any particular ranking order. Therefore, based on your requirement, choose a suitable tool.
CoBlocks

If you want to provide your Gutenberg editor with the capabilities of a page builder, you can install the WordPress blocks plugin CoBlocks. It's a GoDaddy creation that provides you with over 30 WordPress Gutenberg blocks. Plus, some other capabilities like Animation effects and layout for default Gutenberg blocks.
For example, it includes Shadow, 3D, and Circular layouts for the Button block. You can apply text customizations like font family, size, weight, capitalization, and more to headings and other text blocks. CoBlocks offers you intuitive blocks like Hero, Shape Divider, and Features that make it possible to design beautiful templates for landing pages.
In addition, the Row block allows you to build attractive sections on the page with proper Gutter width, margins, and paddings. Even define custom margin and padding values for columns inside the row.
Thus, CoBlocks offers a variety of WordPress Gutenberg blocks but also enhances the functionality of the default ones. Therefore, installing it on your website would surely add wings to your web designing skills.
Price: It's free, and there are no premium versions.
FireBlocks

If you're looking for a free feature-rich Gutenberg blocks plugin, you can rely on FireBlocks. It's a new WordPress Gutenberg plugin with a library of easy-to-use yet advanced blocks. Using them, you can take your WordPress website to a new level. The blocks will make your site look good as well as highly functional.
Its blocks, like Countdown, let you add impressive Evergreen and Fixed timers for events of different kinds. Using the Video block, you can beautifully embed videos from YouTube, Vimeo, Dailymotion, etc.
To draw visitors' attention, you can use the Notification block. It allows showing color-coded messages like Warnings, Error, Success, and more.
Likewise, the other blocks available with this plugin allow adding modern webpage elements easily. Furthermore, it's a lightweight plugin purely based on Gutenberg. So you don't have to face any speed issues on your website's pages.
Using FireBlocks, you'll add beauty, functionality, and performance together without compromising anything.
Price: Available for free.
Ultimate Blocks

With Ultimate Blocks, you won't get the extra features for default WordPress blocks. But, the blocks it provides are highly functional. Each one comes with advanced customization options that'll make your day. It includes 22 Gutenberg blocks which you won't find limiting while utilizing.
Plus, each one can be enabled & disabled from the blocks panel. So your website won't load any extra scripts. Only enable those you need. Ultimate Blocks was introduced three years ago, and its blocks ultimately reflect those traits when using them.
The Table of Contents block allows you to display page content covering each heading tag. And if you want to hide one of those, you can easily do that. Furthermore, it has scrolling settings, different color options for each element of the table, and advanced settings to improve its functionality even more. Similarly, other blocks of this plugin include several features to enhance a particular element you design.
Thus, with Ultimate Blocks, you can have your design per your needs without feeling missing something.
Price: Available for free.
Kadence Blocks

Although Kadence Blocks includes fewer Gutenberg blocks than the previous ones, it features great page builder capabilities. That probably explains why it has over 200k active installations and 5-star ratings of 101 users out of 106. Kadence Blocks open numerous possibilities for a Gutenberg lover to design something out of the box.
It provides pre-built sections, landing pages, and imageless sections, which they call Wireframe. With this, you can have rich media without taking up space. And blocks like Row allow you to create sections based on different device types. It includes the feature to change blocks' width per device type, copy their style, and align them at different levels.
Furthermore, its page builder capabilities enable you to create a default color palette for blocks and hide/show blocks for the page you're working on. Set default values for each block. For instance, define Advanced Heading block's font type, weight, family, spacing, etc. When you use another advanced heading, it will appear with the same customizations you've defined.
Apart from this, it lets you set the editor width. So, based on your screen size, you can have the best experience with your Kadence Blocks.
Price: Kadence Blocks Pro is available starting from $89 for unlimited websites.
Otter Blocks

As soon as you install Otter Blocks, you'll be greeted with an onboarding process, which will help you learn more about the plugin's features. Although it doesn't offer any panel to enable and disable certain blocks, its dashboard is quite helpful. You can enable Custom CSS Module, Animation Module, Google Maps API, and more here.
It includes a total of 27 WordPress blocks with lots of customization options. Using them lets you have pages or posts with essential web page elements for different use. For example, if you're creating a portfolio page, you can use the Masonry block to showcase your work effectively.
Furthermore, you can take that gallery to a new level by utilizing Otter Block options in the sidebar. It allows you to add margins, increase/decrease column numbers, link images, and more.
Likewise, other Gutenberg blocks of this plugin help you maximize the working of your page/post. Blocks like Google Maps, Accordion, Circle Counter, and Posts are the ones you should include in your design.
Price: Available for free.
WooCommerce Blocks

Adding WooCommerce to your WordPress site features some Gutenberg blocks to display e-store elements on posts and pages—for example, Featured Products, Best Selling Products, Reviews, and more. However, by installing WooCommerce Blocks, you get more blocks to enhance that. Plus, they allow you to optimize the whole purchase process of your digital store.
The additional blocks it adds to the Gutenberg editor are Checkout and Cart. You can create new pages for Checkout and Cart using these blocks. Plus, both include features to optimize the checkout and cart page fields. Even you can add more blocks to the default checkout and cart fields area.
If you want to keep your digital store lightweight and free from 3rd party page builders, then WooCommerce Blocks is the best option. It helps you transform your simple WooCommerce store into something new and modern. Moreover, using its blocks is as simple as utilizing the default WordPress Gutenberg blocks.
Price: Available for free.
GutenBee

If you're looking for a plugin to take your content creation to the next level, look no further than GutenBee. It has 7k active installations, and it's free. It offers over 25 blocks to improve core blocks, such as heading, paragraph, gallery, and more. But it doesn't stop there; your creativity can truly shine with entirely new and exciting blocks like image comparison, progress bar, slideshow, Google map, and more.
The GutenBee Container block and GutenBee Post Types dynamic block post allow you to create custom layouts and grids easily. In addition, it comes with a Food Menu block that simplifies creating a price list for your cafe, restaurant, or bar.
The GutenBee plugin offers a user-friendly interface perfect for beginners and experts alike. The drag-and-drop functionality and customization options make creating content a breeze. With its user-friendly interface, customization options, and SEO optimization, the GutenBee plugin is a game-changer for WordPress content creators.
Price: Available for free.
GenerateBlocks
With GenerateBlocks, you'll get only 4 WordPress blocks, but those aren't a few. Rather, they possess features to customize a particular element at an extended level. The blocks it offers are Grid, Container, Buttons, and Headline. Using these blocks, you can have a complete WordPress design.
For instance, adding the grid block inserts a container block or blocks on the page in a row format. Then, inside a container, you can add Gutenberg blocks of your choice. Both Container and Grid offer different options.
The grid allows you to customize the layout of the containers, like gaps and alignment for different device types. At the same time, the container block enables you to customize its width and apply different tweaks to the elements inside it, such as typography changes, spacing, colors, and more.
If you're using the GeneratePress theme, and want to keep your design lightweight and highly compatible with it, then GenerateBlocks is what you need.
Price: GenerateBlocks Pro is available starting from $39/year for a single site.
Gutentor

As the name suggests, Gutentor is the Elementor for creating web elements using the Gutenberg editor.
You get elements, blocks, modules, post types, terms, and widgets for the WordPress blocks. Plus, pre-built design blocks, templates, template kits, and patterns are similar to the Wireframe we discussed earlier.
Gutentor is a complete solution for building amazing websites. Whether you insert its elements or blocks on the page, you get high-level customization options to enhance them significantly.
What's impressive about Gutentor blocks is that each section can be placed at different locations by dragging. And if you want to delete something, you don't have to open block settings; instead, do that with a single click. For each element, it provides a quick button attached next to them to perform different actions. (Drag, Delete, and Settings.)
In addition, you can export the particular design you're working on from the editor. And likewise, GenerateBlocks, you can create a color palette and change typography, color, container width, and more for the entire elements in a single go.
If you're looking for advanced web customization through Gutenberg, then Gutentor is what you need.
Price: Available for free.
Stackable

Stackable offers 40 Gutenberg blocks that enable you to design websites. And these blocks are segmented into three types: Essential, Special, and Section. So you can select the right block for a particular web design need.
Upon installation, it offers an easy-to-understand user manual, plus global settings to configure the plugin's use. You can enable or disable particular blocks, change editor settings, and set device breakpoints.
When working inside the Gutenberg editor, Stackable allows you to choose templates. It includes Block Designs, UI Kits, and Wireframes. Each has optimized blocks, but you can improve them further by utilizing the Stackable Block and Global settings per your needs.
The block settings allow you to change alignment, set background and tweak size & spacing, borders, and shadows. You can also utilize its dynamic function and advanced settings offering options to change position, apply motion effects, and more.
On the other hand, global settings let you create a color palette and typography for all the headings and body text.
Price: Stackable Premium is available starting from $49/year for a single site.
PublishPress Blocks

PublishPress Blocks is the ultimate solution for building professional websites with the WordPress block editor. This plugin offers over 20 extra Gutenberg blocks, including accordion, button, columns manager, contact form, count up, Google maps, icon, image, image slider, info box, list, login/register form, newsletter, search bar, and more.
The Content Display block is the best way to showcase your latest posts in the Gutenberg editor. You can choose from six layout options and dozens of customization features, including author and category filters, posted and updated dates, images, excerpts, and more.
With block permissions, you can control who can use each block, including default WordPress blocks. And with block controls, you can schedule when blocks are shown and add user role restrictions.
Upgrade to PublishPress Blocks Pro for faster support and all the features you need to supercharge your WordPress block editor.
Price: PublishPress Blocks Pro is available starting from $49/year for a single site.
What's your favorite Gutenberg plugin?
We looked at the 11 best Gutenberg Block plugins for the WordPress Block editor.
Each plugin comprises unique features that make WordPress web designing easy and fun. However, installing them would make your site heavy and take time to load. So, in that case, you should choose the one that suits your requirements the most.
If you need to customize your store, choosing WooCommerce Blocks is appropriate. On the other hand, if you need something lightweight, you can use GenerateBlocks, Otter, and GutenBee.
For high performance, style, and usability, you should go with the FireBlocks Gutenberg plugin, which is also free to download.
To fulfill maximum page builder capabilities, you should consider using CoBlocks, Kadence, Gutentor, and Stackable. And with Ultimate Blocks and PublishPress, you can have the design with more possibilities, but you'd not get the additional options.
I hope this blog post helped you learn more about Gutenberg Editor and the plugins available to boost its functionality. If you're still in doubt and unable to decide which one you should choose, try them individually, and you'd find your favorite Gutenberg blocks plugin.