All the Blocks you need
A powerful library of premium blocks that takes the best of the WordPress block editor
Countdown
Notify your visitors about the upcoming events or big days. Create the feeling of scarcity and drive more sales.
AI Text
Unleash the Power of AI to Create Unique Content for Your WordPress Site with OpenAI & ChatGPT.
Video
Embed Youtube, Vimeo, Dailymotion or self hosted videos with a playback player anywhere in your page.
Map
Help visitors find your business location with an interactive map powered by OpenStreetMaps.
Star Rating
Build trust and assure new users about the quality of your product and services with elegant star ratings.
Notification
Draw visitors attention with temporary and easily dismissible notices, warnings, or info banners.
Tabs
Display long content in a smaller place and enhance the user experience. Place anything inside each tab.
Coming Soon
Social Share
Display modern social media icons for all popular networks and encourage visitors to share your pages.
Coming Soon
Enhance the Gutenberg editor with advanced and powerful blocks
Free to use Easy to setup No code required
Create stunning websites with ease
A powerful library of premium blocks that takes the best of the WordPress block editor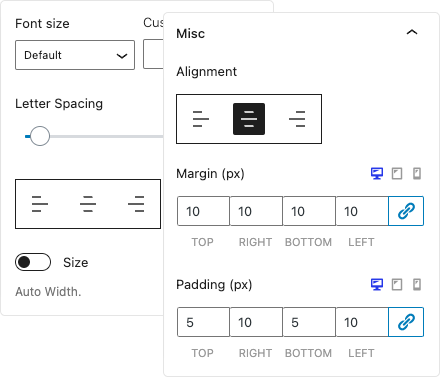 TABLET & MOBILE FRIENDLY
User-Friendly Controls
WordPress Page Building Blocks has made developing and designing websites so easy as never before. FireBlocks offers full design options for each and every elements inside blocks. Device specific responsive controls for Desktop, Tablet and Mobile for various basic and advanced options.
100% CUSTOMIZABLE
Highly Customizable Blocks
Each Block comes with bunch of options to control every possible things. You can achieve nearly any design with your imagination without any single lines of code. Create beautiful posts, pages, and landing pages in no time.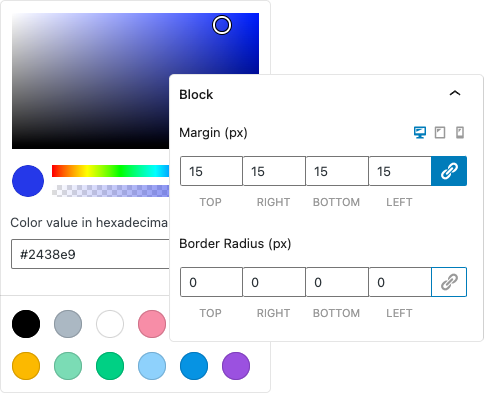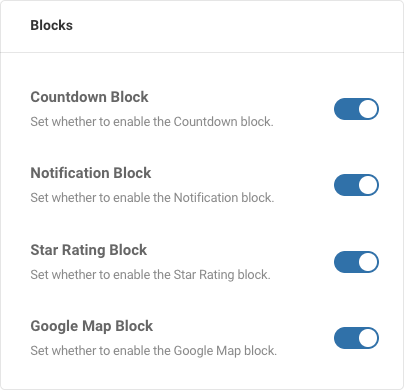 TOGGLE BLOCKS
Blocks Manager
In case you are not interested in using certain blocks, you can choose what blocks to enable and disable in the Blocks Manager option in the plugin's configuration page.
Why FireBlocks is the right choice
A powerful library of premium blocks that takes the best of the block editor.
Built for speed
Each block is meticulously crafted with respect to performance, accessibility, and extensibility.
Tablet & Mobile Friendly
Increase your reach by making your website mobile and tablet-friendly without any extra effort.
Knowledge Base
Detailed documentation, how-to guides, troubleshooting steps, and more to help you resolve your issues.
Regular Updates
Regularly updated to ensure compatibility and offer new features. Getting better every day!
World-Class Support
We give you top-notch support to help you make the most out of our plugin. We got your back!
No coding required
You don't need to write a single line of code or have any technical expertise when using FireBlocks.
Find the answers that you need
Do you have questions about FireBlocks? We have answers!
Who should use the FireBlocks plugin?
FireBlocks is a plugin for WordPress that lets you create beautiful pages and posts with a complete set of unique and creative blocks. Therefore, it is certainly an asset for all those who love Gutenberg.
Is FireBlocks Free?
Yes, FireBlocks is free forever. Compared to most of the premium plugins, FireBlocks comes with more awesome features for free. We do have plans though to launch a Pro version with more advanced features in the near future.
How do I use my first FireBlocks Gutenberg blocks?
With FireBlocks, Gutenberg blocks are integrated into the new WordPress editor, so you can use them exactly how you would any other WordPress block. When the plugin is installed, you can add all of FireBlocks' WordPress blocks to a WordPress page or post by clicking the plus icon.
Do I need to know how to code to use FireBlocks?
Absolutely not. You don't need to know a single line of code or have any technical expertise when using FireBlocks.
What themes does FireBlocks work with?
You can use FireBlocks with any theme.
Can I use this plugin with other block plugins?
Absolutely! FireBlocks play well with other blocks.
Will FireBlocks slow down my website?
Absolutely not. FireBlocks is carefully built with performance in mind. We have developed everything with best practices and modern standards to ensure things run smoothly and fast.
Can I disable blocks that I do not use?
Yes, you can manage your blocks and choose what blocks to enable/disable in the plugin settings.
What are the requirements to use FireBlocks?
FireBlocks requires Gutenberg. So, you will need to have WordPress 5.3 or later to take advantage of FireBlocks.
Do you still have questions? Contact us
Create beautiful posts, pages, and landing pages in no time
Free to use Easy to setup No code required