Welcome to our May Product Updates! This month, our focus has been optimizing FireBox, our powerful WordPress plugin, to seamlessly integrate with WooCommerce and Easy Digital Downloads (EDD). We are excited to unveil new features to elevate your marketing campaigns and deliver personalized experiences to your users. From enhanced targeting options and smart tags to tailor-made popup templates, FireBox is ready to take your WooCommerce and EDD integration to the next level. Join us as we explore the exciting updates designed to maximize your sales, boost revenue, and create a truly engaging user experience.
TABLE OF CONTENTS
Homepage Display Condition: Target Your Audience Effectively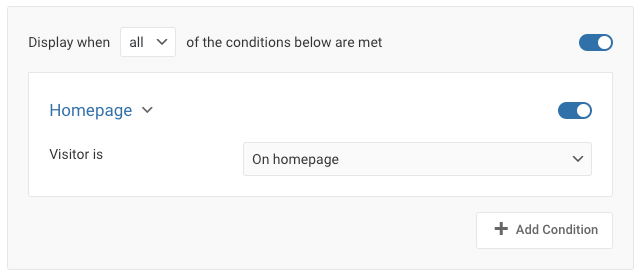 Effective targeting is the cornerstone of successful marketing popup marketing campaigns. To empower you with greater control, FireBox introduces a groundbreaking feature: the Homepage Display Condition. Now, with a single option, you can effortlessly configure your popups to appear exclusively on the homepage. This means you can capture the attention of your visitors right from the moment they land on your website, maximizing your marketing impact.
WooCommerce and Easy Digital Downloads Smart Tags: Personalize with Precision
The latest version of FireBox introduces 4 Smart Tags that will revolutionize how you create personalized popups for WooCommerce and Easy Digital Downloads.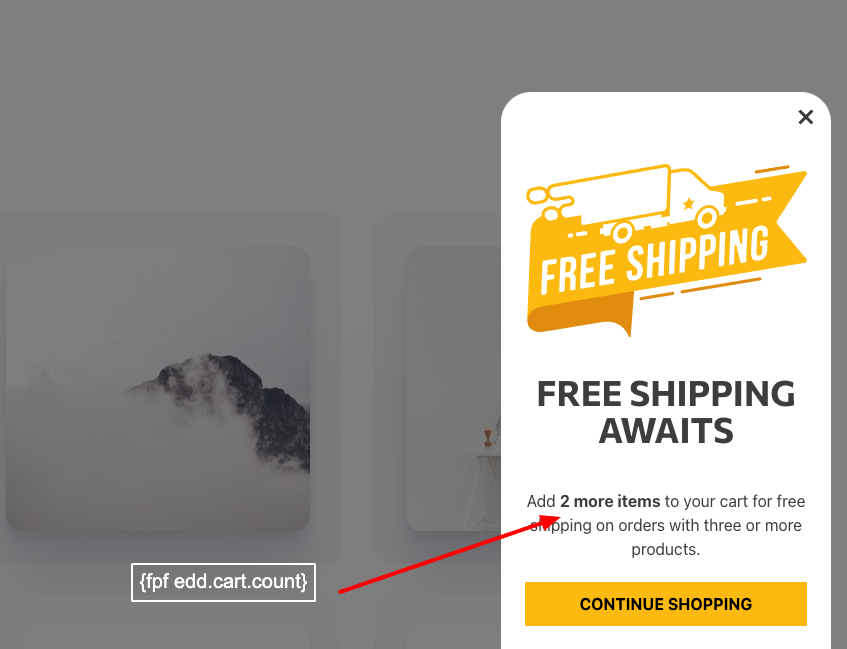 These Smart Tags (shortcodes) enable you to tailor your popups' content precisely, providing a unique user experience. Let's explore these game-changing Smart Tags:
Cart Total: Utilize this Smart Tag to dynamically display the total amount of the user's cart, enabling you to craft compelling offers based on their purchasing power.
Cart Subtotal: With this Smart Tag, you can showcase the subtotal amount of the user's cart, enticing them with targeted discounts or incentives tailored to their current shopping progress.
Cart Count: Engage your users by showcasing the total number of products they have added to their cart, creating a sense of urgency, or incentivizing them with special offers.
Stock: Leverage the Stock Smart Tag to display the availability of specific products, triggering scarcity-driven marketing tactics that drive conversions.
With these powerful Smart Tags, you can dynamically personalize popups and captivate your audience like never before. To read more details, visit Personalize Your Campaigns With Smart Tags.
WooCommerce and Easy Digital Downloads Conditions: Precision Targeting Perfected
FireBox doesn't stop at Smart Tags. In April Products Update, we took a significant step forward by introducing 5 display conditions specifically designed for WooCommerce and Easy Digital Downloads (EDD). Now, with the latest version of FireBox, we are thrilled to announce another set of 6 display conditions, bringing the total count to 11.

These conditions allow you to achieve unparalleled precision and customization in your popup campaigns. Now you can refine your popup campaigns and ensure your message reaches users at the right time. Let's explore these new conditions that enable unparalleled targeting:
Purchased Product: Target users who have purchased a specific product, allowing you to upsell or cross-sell complementary items and enhance customer loyalty.
Last Purchased Date: Tailor your popups based on the user's last purchase date, delivering personalized offers that align with their buying patterns and preferences.
Current Product Price: Display popups based on the current price of the product users are browsing, enabling you to present timely discounts or exclusive deals.
Current Product Stock: Create a sense of urgency by triggering popups based on the users of the available product who are interested in it, emphasizing limited stock or special offers.
Total Spend: Engage high-value customers by targeting them with popups based on the total amount they have spent on your e-shop, rewarding their loyalty, and encouraging repeat purchases.
Current Category: Customize popups based on the category users are exploring, offering them relevant promotions or information tailored to their interests.
These new display conditions empower you to fine-tune your popup campaigns, ensuring your messages resonate with your target audience and drive exceptional results. For more details, visit the WooCommerce Conditions and Easy Digital Downloads Conditions documentation pages.
10 WooCommerce Popup Templates: Elevate Your Sales and Revenue
In our continuous quest to provide exceptional marketing solutions, FireBox introduces 10 meticulously crafted popup templates designed for WooCommerce. These professionally designed templates are meticulously tailored to boost your sales and revenue. Let's take a closer look at the possibilities:
WooCommerce Upsell Popup Based on Product Category
Effortlessly promote complementary products based on the user's current product category, encouraging them to explore additional items that align with their interests and preferences.
WooCommerce Loyalty Reward Coupon Popup Based on Total Spend
Recognize and reward your loyal customers by presenting exclusive coupons based on their total spending, fostering appreciation and incentivizing them to continue their patronage.
WooCommerce Welcome Back Discount Popup Based on Last Purchase Date
Re-engage dormant customers by offering them a warm welcome back with enticing discounts tailored to their last purchase date. This personal touch can reignite their interest and prompt them to make another purchase.
WooCommerce Exclusive Discount Popup for Repeat Customers of a Specific Product
Show appreciation to customers who have repeatedly purchased a specific product by offering exclusive discounts, enhancing their loyalty, and encouraging them to become brand advocates.
WooCommerce Limited Product Stock Alert Popup
Generate a sense of urgency and scarcity by displaying popups that alert users about limited stock availability or when a product is about to go out of stock. This drives faster decision-making and prompts users to take immediate action.
WooCommerce Cart Abandonment Exit Coupon Popup Based on Products in Cart
WooCommerce After Email Opt-in Discount Popup Based on Product Price
Combat cart abandonment by capturing users' attention with targeted exit popups that offer exclusive coupons or incentives based on the products they have added to their cart. This persuasive approach can nudge them to complete their purchase.
Encourage users to subscribe to your mailing list by offering them enticing discounts based on the price range of the product they are interested in. This grows your email list and increases the chances of future conversions.
WooCommerce Upsell Popup Based on Current Product
Seize the opportunity to upsell by displaying popups that recommend higher-end or complementary products based on the specific item users are currently viewing. This strategic approach can lead to increased average order value.
WooCommerce Spend $X and Get Free Gift Popup Based on Cart Amount
Incentivize users to increase their cart value by presenting them with enticing popups that offer gifts or rewards when they reach a certain spending threshold. This motivates them to add more items to their cart and enjoy the added benefit.
WooCommerce Items Left for Free Shipping Slide-in Popup
Encourage users to reach the Free shipping threshold by utilizing eye-catching slide-in popups that inform them about the remaining amount needed to qualify for free shipping. This motivates them to add more items to their cart and saves shipping costs.
With these 10 WooCommerce popup templates at your disposal, equipped with the power of the display conditions and Smart Tags mentioned earlier, you can deliver highly personalized and captivating experiences to your users, driving sales and fostering long-term customer relationships.
Stay tuned for more exciting updates as we continue to enhance FireBox and empower you with innovative solutions to elevate your WordPress plugin experience.
Don't Miss Our Latest Blog Posts
Before we wrap up, we wanted to remind you of some valuable resources we published in our blog since our last update in April. In case you missed them, here are some informative articles that can enhance your understanding and utilization of FireBox:
How to Make a Popup With Blurred Background in WordPress: Learn how to create visually stunning popups with a blurred background effect that captivates your users.
How to Play an Opening Sound with WordPress Popups: Discover how to add an engaging sound effect to your popups, grabbing your users' attention and creating a memorable experience.
How to Display a Popup Only Once per User in WordPress: Explore strategies to ensure that your popups are shown to users only once, preventing repetition and optimizing user experience.
How to Create a Fullscreen Popup in WordPress + 10 Real-World Examples: Learn how to design impactful fullscreen popups and gain inspiration from ten real-world examples demonstrating their effectiveness.
How to Create a Popup That Opens on a Button Click in WordPress: Find out how to trigger popups with a simple button, enabling you to deliver targeted messages immediately.
We encourage you to explore these valuable resources, as they provide insights and practical guidance to make the most out of FireBox and enhance your WordPress popup campaigns.
Conclusion
In conclusion, the May Product Updates for FireBox bring a new level of integration and customization to your WordPress plugin experience. By focusing on seamless integration with WooCommerce and Easy Digital Downloads, we have empowered you to create highly targeted and personalized marketing campaigns. With enhanced targeting options, smart tags, and tailored popup templates, FireBox equips you with the tools to maximize sales, boost revenue, and engage your users on a whole new level. Upgrade to the latest version of FireBox today and unlock the potential to captivate your audience and achieve remarkable results in your online business endeavors.