Affiliate marketing is one of the best ways to build a business and earn money online. If you're in the WordPress industry and looking for the best high-paying WordPress affiliate programs, this article will help you out.
WordPress is open-source content management, currently powering more than 43% of all websites on the internet.
Although WordPress is a free platform, many related products, such as WordPress plugins and themes, offer high commissions and residual earnings.
In this article, I've compiled a list of the highest-paying WordPress affiliate programs, along with their rate structures and commission ranges.
How Does Affiliate Marketing Programs Work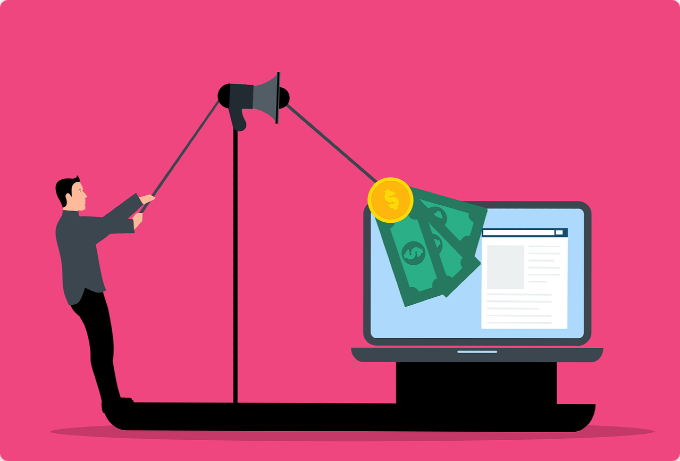 Affiliate marketing programs connect businesses with affiliate marketers.
Almost every big brand and company run affiliate marketing programs to drive traffic, promote their products and generate sales.
Affiliate marketing is a smart advertising strategy where 3rd party publishers or affiliates promote products on their blog, social media channels, and email newsletter using a unique link. If readers click on the link and make a purchase, the product company pays a commission to the affiliate.
This complete process of affiliate marketing relies on dedicated affiliate marketing software. This software tracks and generates a unique link (affiliate link) containing affiliates' usernames or IDs and UTM parameters.
This affiliate link helps companies track the referrals whenever a prospect buys a product through the affiliate link.
What to Look for in a Good WordPress Affiliate Program
There is no doubt that affiliate marketing is one of the most effective ways to earn money online and increase passive income without investing much.
But it's not always easy to decide which affiliate programs are best, especially if you're new to affiliate marketing.
A good WordPress affiliate marketing program offers value, and it should have clear terms, clearly defined payout rates, and a clear refund policy.
So before you sign up for a WordPress affiliate program, you should look for a few things and consider the following factors:
Product Reputation
The first and foremost thing you need to consider before joining any product's affiliate program is its reputation in the market.
A product with a good reputation and brand value will satisfy your audience, increasing your chance of building long-term affiliate relationships.
Speaking of the WordPress plugins, themes, and other products, you can judge their performance by checking their existing customer reviews on online forums, other affiliates' websites, their wp.org profile, and popular blogs like WPBeginner and WP Mayor.
Commission Percentage
The most obvious factor you should consider before joining a WordPress affiliate program is how much commission the company will pay you for each sale.
Commission percent depends on the cost of the product. Generally, high-cost products offer lower commissions, and lower-cost products offer higher commissions.
In the WordPress ecosystem, product owners mostly offer affiliates 20% of the sale. The commission value can be high or low, depending on the product type.
Commission Type
Which type of commission you get: one-time commission or a recurring commission, depends on the WordPress product you're planning to promote.
Most of the WordPress affiliate programs offer recurring commissions. In recurring commission types, the customer you referred to the WordPress product whenever renews his plan or subscription; you'll be paid a commission.
Some WordPress affiliate marketing programs offer a lifetime recurring commission, whereas some provide just for one or two years. You need to check these details in their terms and conditions.
Product Cost
Affiliates' commission percentage or earnings depend on the cost of the product they are promoting.
Of course, products with high prices will pay you high commissions, but at the same time, it's not easy to convince people to invest in high-pricing products.
Products with lower prices are easy to sell but pay low commissions.
So you need to choose wisely!
Affiliate Cookie Duration
Another crucial factor you must check in WordPress affiliate programs is affiliate cookie duration.
Cookie is a small data file used to identify the site visitors. In affiliate marketing, cookies are used to track affiliate referrals.
Now let's say a prospective buyer navigates to the product website through your referral link but does not complete the purchase at that time.
After some days, the same buyer goes to the website and makes a purchase. In that case, also, you'll get your affiliate commission because the cookies stored on the website track your affiliate referrals.
But most importantly, these cookies come with an expiration date, generally between 30-90 days. So if your referral purchases before the cookie expiration date, you'll get your profit.
Target Audience
While promoting WordPress products, you also need to check if the product aligns with your target audience's interest or not.
Let's assume you run a dedicated blog around SEO tools and tips, then promoting WordPress table plugins doesn't make much sense to your visitors.
So, always choose the WordPress affiliate programs that satisfy your visitors' interest.
Best High Paying WordPress Affiliate Programs
Here's our handpicked list of the 10 best highest-paying WordPress affiliate programs you can trust and promote.
Let's dive in!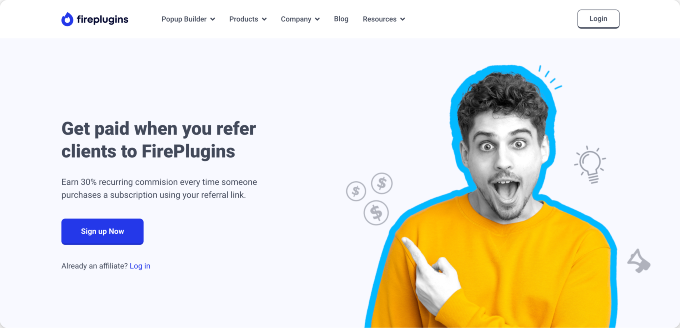 FirePlugins is the parent company of some amazing WordPress plugins such as FireBox, FireBlocks, FireSchema, and FireForms.
All FirePlugins' products are based on a WordPress block editor and come with a clean, modern, and user-friendly interface.
For users who are looking for fast and beginner WordPress plugins that work flawlessly with the new block editor, FirePlugins provides the best plugin options.
Our affiliate program allows you to earn 30% recurring commissions every time someone purchases a subscription using your affiliate link. Once you start promoting and referring FirePlugins products, you can enjoy a lifetime of passive income.
FirePlugins affiliate program credits all your payments in your PayPal account monthly without delay.
We believe in transparency; that is why we'll give you access to check and track your generated sale and commission in real-time.
Although joining FirePlugins' WordPress affiliate program is pretty simple, you can always get assistance from our dedicated support team if you encounter any difficulties during the signup process.
Key Features of the FirePlugins Affiliate Program
Commission Rate: 30% on every sale
Commission Type: Recurring
Cookie Duration: 120 Days
Payout Period: Payouts are made via PayPal once a month, with a minimum amount of 100 EUR.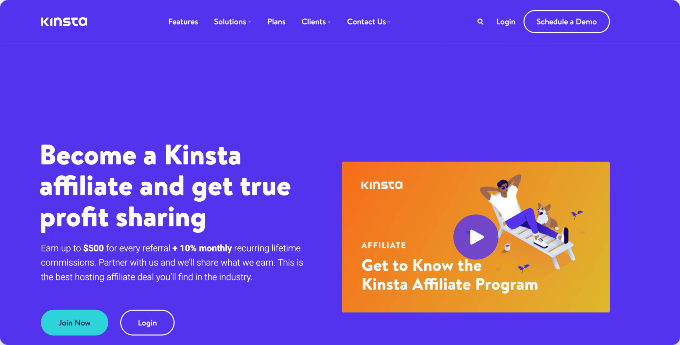 Kinsta is a premium managed WordPress hosting powered by the Google Cloud Platform.
Kinsta is already a popular name in WordPress, providing hosting solutions to more than 25,000+ companies. Some well-known Kinsta clients are Buffer, TripAdvisor, Ubisoft, and UNICEF.
Kinsta affiliate program's referral commissions range from $50 to $500, depending on the plan.
Besides Kinsta's lucrative fixed commission, you can earn a monthly recurring commission of 10% for the entire lifetime of the customer you refer to the company.
Furthermore, Kinsta offers 5% recurring monthly commissions when you refer a customer into their Application & Database Hosting plans.
Kinsta's affiliate commission is quite impressive and one of the highest-paying WordPress affiliate commissions compared to other affiliate programs.
Key Features of the Kinsta Affiliate Program
Commission Rate: $50 to $500 per sale, depending on the plan
Commission Type: 10% monthly recurring commission depending on the plan
Cookie Duration: 60 days
Payout Period: Payouts are sent to your PayPay account each month.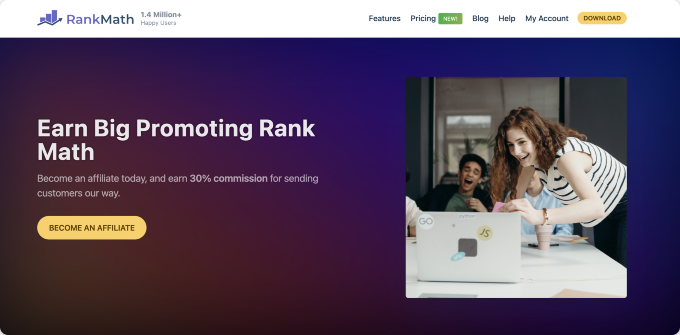 RankMath is one of the best and most user-friendly WordPress SEO plugins.
More than 1.4 million users trusted RankMath to optimize & improve search engine rankings of their websites. Many popular SEOs, including SEMRUSH, Ahrefs, and Hubspot, recommend RankMath for WordPress.
SEO is the basic necessity of every website, and by joining the RankMath affiliate program, you can earn around 30% commission, depending on its pricing plan type.
In addition, you'll have access to their affiliate dashboard, where you can monitor your campaigns, stats, and earnings.
Key Features of the RankMath Affiliate Program
Commission Rate: 30% on each sale
Cookie Duration: 60 days
Payout Period: Payouts are sent via PayPay each month.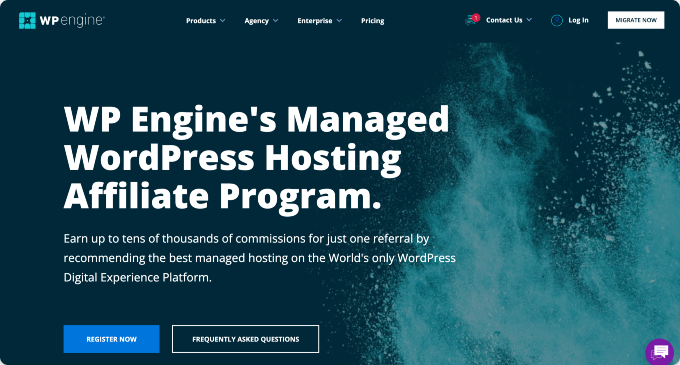 Another managed hosting platform for WordPress is WP Engine. You can earn up to tens of thousands of dollars in commissions with just one referral.
WP Engine affiliate program offers two commission structures. You can earn $200 or 100% of the first-month payment by selling WP Engine and Genesis Pro products and 35% of StudioPress Theme sales.
There is also a referral bonus based on the volume of referrals. Refer five sales in a month to earn $100, or 60+ sales to earn $1,500.
Key Features of the WP Engine Affiliate Program
Commission Rate: $200 or 100% of the first month's subscription
Cookie Duration: 180 days
Payout Period: Payouts are sent via ShareASale on the 20th of every month.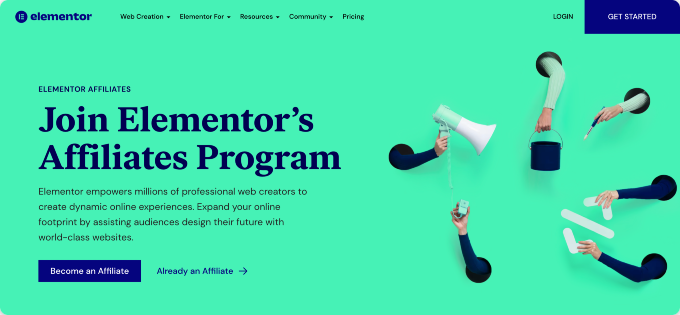 Elementor is a leading drag-and-drop page builder for WordPress, empowering 10+ million websites.
Elementor provides users complete flexibility and resources to design any niche website without writing a single line of code.
The Elementor team also launched a managed hosting service, Elementor Cloud, which includes hosting and CMS tools in addition to the Elementor Pro.
The Lite version of Elementor is quite popular and has more than 5+ million active installs. That means you can earn a handsome amount of commission promoting Elementor pro.
Elementor's affiliate program pays 50% for sales of Elementor Pro and $70 for subscriptions of Elementor Cloud. You can also earn bonuses of up to $12,500 when you reach certain milestones with referrals.
Key Features of the Elementor Affiliate Program
Commission Rate: 50% commission on all sales of Elementor Pro & $70 for subscriptions of Elementor Cloud
Cookie Duration: 30 days
Payout Period: Payouts are sent via the PartnerStack program every month.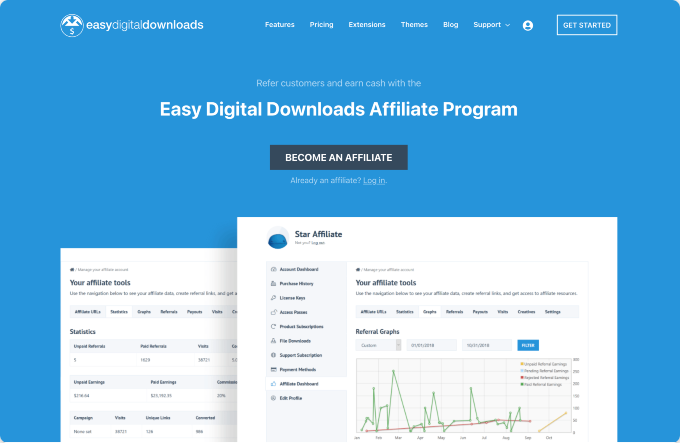 Easy Digital Downloads or EDD is a great tool for selling digital products on WordPress.
For the users' who are selling online, EDD makes selling digital products smooth by allowing customers to download the digital product after successful payment.
One of the major benefits of promoting Easy Digital Downloads is that you can sell it to any person who has a website and sells digital products online.
Easy Digital Downloads affiliate program offers a 20% commission on every referral.
Key Features of the Easy Digital Downloads Affiliate Program
Commission Rate: 20% on every sale
Cookie Duration: 30 days
Payout Period: Payouts are sent directly to your bank account in the first week of every month.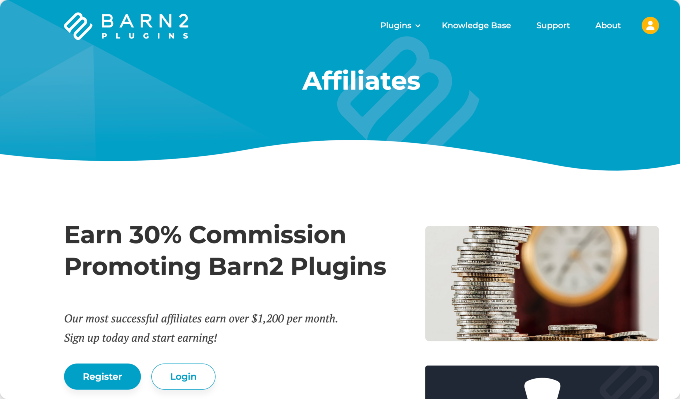 Barn2 Plugins specializes in building WordPress and WooCommerce plugins like WooCommerce Product Table, WooCommerce Fast Cart, Document Library Pro, and more.
For those looking to add some extra and advanced functionality to their eCommerce store built using WooCommerce, Barn2 Plugins work wonders for them.
By taking part in the Barn2 Plugins affiliate program, you can earn a 30% commission.
Key Features of the Barn2 Plugins Affiliate Program
Commission Rate: 30% commission on the first year's payment
Cookie Duration: 14 days
Payout Period: Payouts are sent via PayPal every month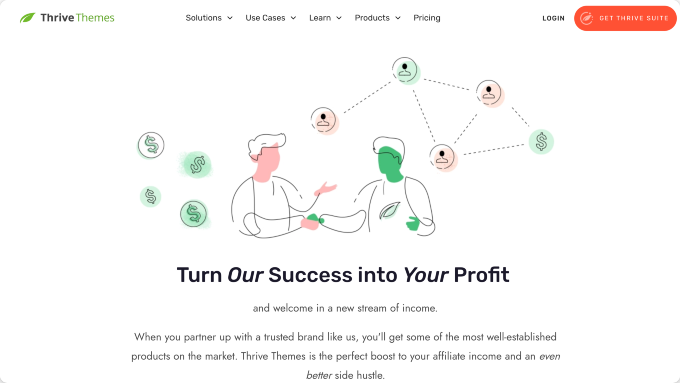 Thrive Themes sells WordPress themes and plugins to help its users to create conversion-oriented websites, landing pages, lead generation quizzes, online courses, and more.
All Thrive Themes products come in a bundle pack called Thrive Suit.
By joining Thrive Themes affiliate program, you get a fixed and lucrative recurring commission. It offers 35% commission for each new sale and 25% recurring lifetime commissions as long as your referral uses Thrive Themes products.
Key Features of the Thrive Themes Affiliate Program
Commission Rate: 35% commission on new sales + 25% recurring commission
Cookie Duration: 2 year
Payout Period: Payouts are made through PayPal.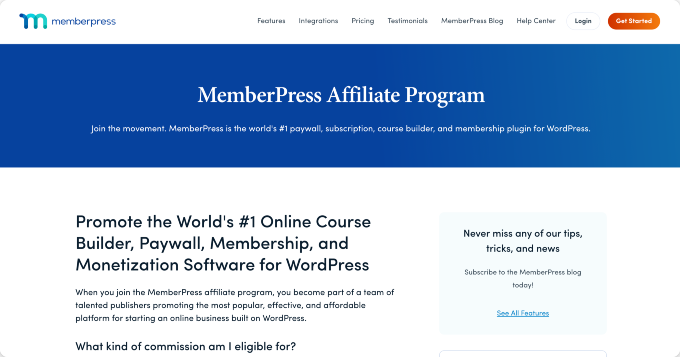 MemberPress is a powerful yet easy-to-use WordPress membership plugin.
MemberPress comprises all the essential features required to create a fully-fledged membership website. Some of its advanced options allow users to put restrictions on content display, set up processes to sell online courses, offer digital downloads, and more.
The affiliate program of MemberPress offers 25% commissions on the first sale for each referred customer.
Key Features of the MemberPress Affiliate Program
Commission Rate: 25% commission
Cookie Duration: 60 days
Payout Period: Payouts are made through PayPal.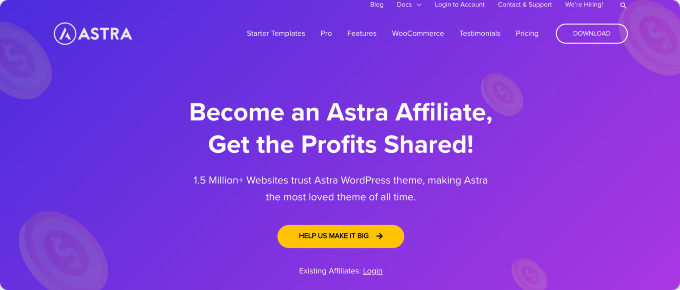 Astra is the fastest, lightweight, and customizable WordPress theme, trusted by more than 1.6 million users.
The best feature of the Astra theme is that it's compatible with the Gutenberg editor and all popular WordPress page builders.
By joining Astra's affiliate program, you can earn a 30% commission on any sale.
Key Features of the MemberPress Affiliate Program
Commission Rate: 30% commission
Cookie Duration: 60 days
Payout Period: Payouts are made through PayPal.
Next, Reduce Bounce Rate on your Site
And there you have it! ! We hope this article helps you choose the best WordPress products to promote and generate income online.
If your website is experiencing a high bounce rate, you can check out our blog on how to reduce bounce rate on WordPress sites.
Also, you might want to check how to add a cookie consent notice in WordPress for GDPR.