Wondering how to reduce bounce rate?
Generating a ton of content is a great way to attract more traffic, improve signups and acquire more customers. But if the traffic leaves your site without taking a single action then investing all that time and money in a content strategy seems like a waste.
Luckily, there are a number of steps you can take to reduce high bounce rates.
High bounce rates occur due to problems like low relevancy, poor user experience, and poor interlinking strategy, among other things. In this article, you will learn how to identify the real cause behind high bounce rates and how to fix it and retain traffic on your site.
Let's get started.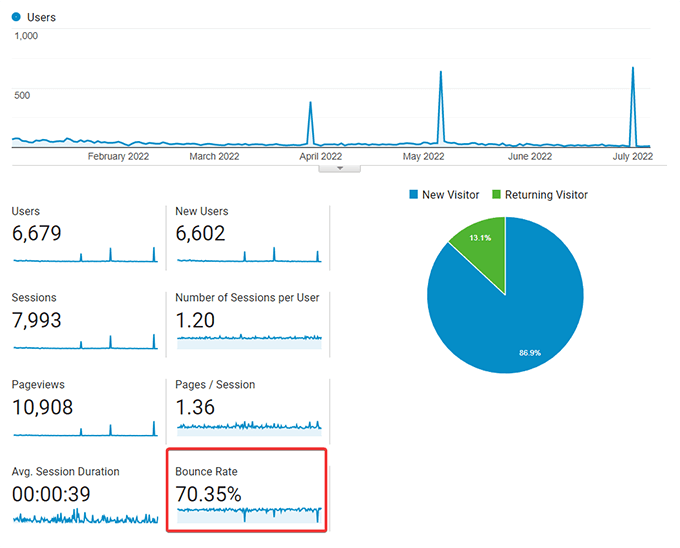 Reasons For High Bounce Rates
When a visitor enters your site and immediately leaves without scrolling or interacting with your site, it's said to have bounced off of your site. High bounce rates indicate that most visitors are leaving your site without taking any action.
There are several reasons why this could be happening. Let's take a look at those reasons.
Not Satisfying Search Intent
Visitors are bouncing off of your website because your site does not meet the visitor's expectations. For instance, let's say a Google user is searching for the best WordPress forms. The user finds your page ranking on top of Google's first page. It clicks on your link expecting to see a list of WordPress Popup Plugins, but instead, it ends up on your home page. At this point, the visitor is likely to bounce back and seek a competitor site.
Another reason behind high bounce rates could be that you are offering people exactly what they are looking for right at the beginning of the article. This challenge can be overcome by offering visitors a reason to keep scrolling down and reading the rest of the article.
For instance, let's say you have published a recipe on how to bake brownies on your cooking blog. To prevent visitors from bouncing off as soon as they find the information they came looking for, you can offer extra content like real pictures, related recipes, free ebooks, etc.
Poor Site Design
Poor site design could also be a reason why visitors are leaving your site. Broken images, overlapping content, too many internal links, complicated CTAs, and cluttered advertisements make your site look unprofessional and untrustworthy.
Slow Website
When users click on your page and find themselves waiting for more than a few seconds for your page to load, they are likely to leave and look for a competitor site.
In fact, according to Think with Google, when your page load time increases from one second to three seconds, the probability of bounce increases by 32%.
So the bottom line is, that slow websites lead to high bounce rates.
These are the main reasons why visitors are bouncing off of your website. In the next section, you will learn how to fix the high bounce rates issue on your WordPress website.
But before we jump to the solutions, let's define what is a good bounce rate for a website.
What is a Good Bounce Rate?
There isn't any universal benchmark for bounce rates. In other words, there isn't a single number that all websites should aim to achieve. The ideal bounce rate differs from website to website, depending on the website type and industry or niche.
As a basic rule of thumb, every website should aim for a bounce rate that isn't too high or too low. Low bounce rates such as 10%-20% are impractical and it indicates that the analytic tool is not recording bounce rates properly.
To identify the bounce rate you should be aiming for, we recommend finding out the average bounce rate for the website in your industry or niche.
Take a look at the varying average bounce rates from Similarweb.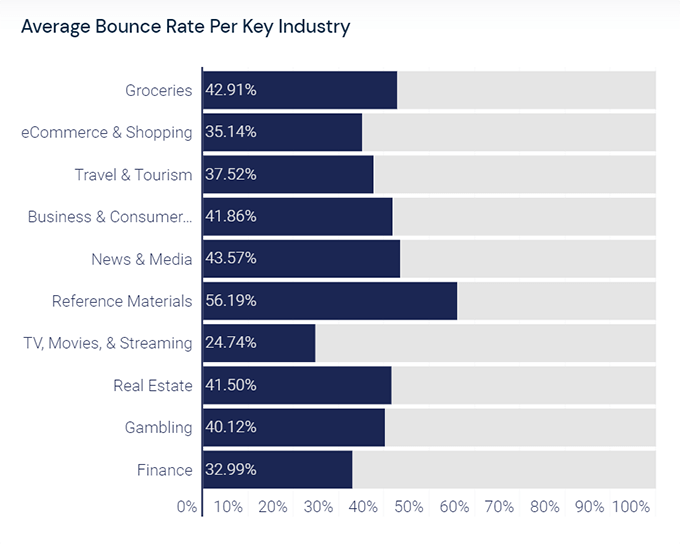 Now that you are acquainted with the average bounce rates of your industry, let's start implementing steps that will help reduce your bounce rate and boost conversions.
How to Reduce Bounce Rates
Listed below are 10 proven methods that will help reduce high bounce rates. We recommend carrying out all the steps listed in this article.
1. Reduce Page Loading Time
One of the biggest culprits behind the high bounce rate is slow loading speed. The longer a visitor has to wait, the more chance for them to bounce off to a competitor site. That's one reason to reduce loading speed.
Another good reason is that Google factors in site speed to determine if your website is worth ranking on the SERP.
Check out this guide on how to speed up your website.
2. Satisfy Search Intent
Google Search is the world's number one traffic source. That's why it's important that all your pages satisfy the search intent of the visitor. If you fail to do that, the visitor will bounce and go to a competitor's site.
Take for instance, the search intent for "best security plugins" is a list of plugins that help you implement security measures on your site. If you were to write an article on the history of cyber security and manage to rank, it won't satisfy the search intent and visitors will bounce away.
3. Implement Exit-Intent Popups
Exit-intent popups are a highly effective conversion optimization tool. It appears as soon as the visitor is about to click on the exit button. In this way, the popup grabs visitors' attention and converts them into leads.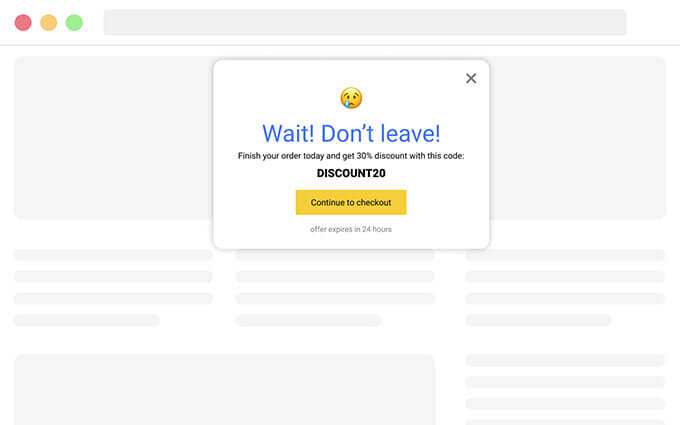 It essentially means that the visitor stays back for a while longer which helps reduce bounce on your website. Find the best WordPress popup plugins here.
4. Embed YouTube Videos
Anything that captures the visitor's attention will help reduce the bounce rate. Adding relevant and interesting videos will cause visitors to spend time on your posts watching the video. This helps increase dwell time and reduce the bounce rate.
The best part is you don't need to create a video from scratch. YouTube allows you to embed videos into your post. So pick one that's most relevant to your post and embed it into your site.
5. Add More Internal Links
Internal links are a great way to connect the pages of your site. They also help reduce bounce rates by encouraging visitors to read relevant pieces of content.
That said, too many internal links can spell disaster. Cramping many internal links in every sentence causes readability issues and dissuades visitors from clicking on the links.
Learn how to create an internal linking strategy through this guide.
Pro Tip: Showing related posts on the sidebar and at the end of posts are other ways to utilize internal linking. Related posts encourage engagement and reduce bounce rates.
6. Open External Links on a New Tab
Opening external links in the same tab can lead to back button fatigue. This means that every time, a user clicks on an external link, they would need to click on the back button to go back to your site. When the back button fatigue sets in, visitors may get distracted and never return to your website. We recommend setting your external links to open on a new tab.
7. Write Clear Compelling Call-to-Action (CTA)
Complicated CTA is confusing and it deters visitors from taking any action. In other words, too many CTAs or complicated CTAs cause high bounce rates. Therefore your pages should have a few clear and compelling call-to-action (CTA). Here's a good guide on writing captivating call-to-actions.
8. Optimize For Mobile
If you detect a high bounce rate from mobile devices, that means your website is not mobile-friendly. Your content is probably not showing up properly or the text is too cluttered, or the images, graphs, and charts are broken. This guide will help you make your website mobile-friendly.
9. Reduce Distractions
Plenty of websites rely heavily on advertisements for revenue. These websites are often full of distracting ads that disrupt the user experience and cause high bounce rates. Some of the worse types of ads are auto-play videos that feel forced and out of place.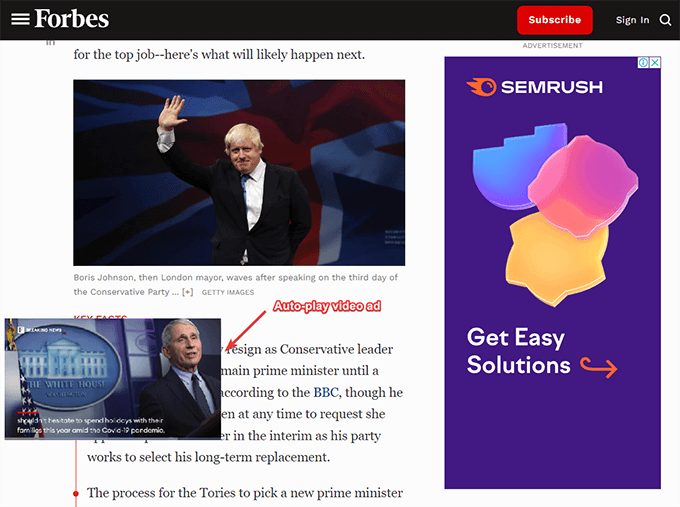 To eliminate distractions, you need to use only a few ads and avoid auto-play videos at all costs. Also, check out this guide on UX design for a better user experience.
10. Translate Site For International Traffic
If your analytic tool picks up significant international traffic, then the high bounce rate could be a sign that some of your international visitors are struggling to use your site. Translating your site to different languages will help retain international traffic and reduce your bounce rate. All you need to do is install and set up a translation plugin.
It's worth noting that when you are targeting certain countries, you should take into account all the languages that the population speaks. For instance, Canada's official language is English and French. This means if you are targetting Canada, you should make your site available in both English and French.
Conclusion
Reducing the bounce rate of your website will help draw more traffic, more customers, and more revenue. There are several steps you can take like speeding up your website, ensuring search intent satisfaction, using exit-intent popups, optimizing for mobile, etc.
We recommend implementing as many steps as possible and monitoring what works and what doesn't. Be sure to implement more of what works and discard the methods that don't work.
That's it for this one folks. If you have any questions on how to reduce bounce rate, leave us a comment below.