We at FirePlugins, are dedicated to providing top-notch WordPress plugins that simplify and enhance your website experience. We aim to ensure that you are always satisfied with the products you receive and feel confident in your investment.
To demonstrate our commitment to our products, we're excited to announce the launch of our new Product Updates blog post series! We'll share the latest bug fixes, improvements, and features we've added to our plugins each month. We aim to keep you informed about our progress and show you that we're constantly working to improve our products.
We'll also send a monthly newsletter with a summary of the updates so you can stay informed without visiting the blog. So, make sure you've subscribed to stay in the loop! This new series will give you the reassurance you need and help to build an even stronger relationship with our company.
In the January edition of our product news, let's look at what's new for our popup builder, FireBox. First, we've completely redesigned the Display Conditions UI to improve your experience. Plus, you can access four new popup display conditions - City, Region, Day of Week, and Month Condition. And, just in time for Valentine's Day, we added new pre-made popup templates to boost your sales this February!
These updates will make your experience with FireBox even more enjoyable and efficient. So stay tuned for more exciting news and updates in the future. We can't wait to share them with you!
Table of Contents
Redesigned Display Conditions + 4 New Conditions
Our WordPress popup builder, FireBox, has re-designed the Display Conditions tab, previously known as Publishing Rules, to make it even easier for you to target your visitors.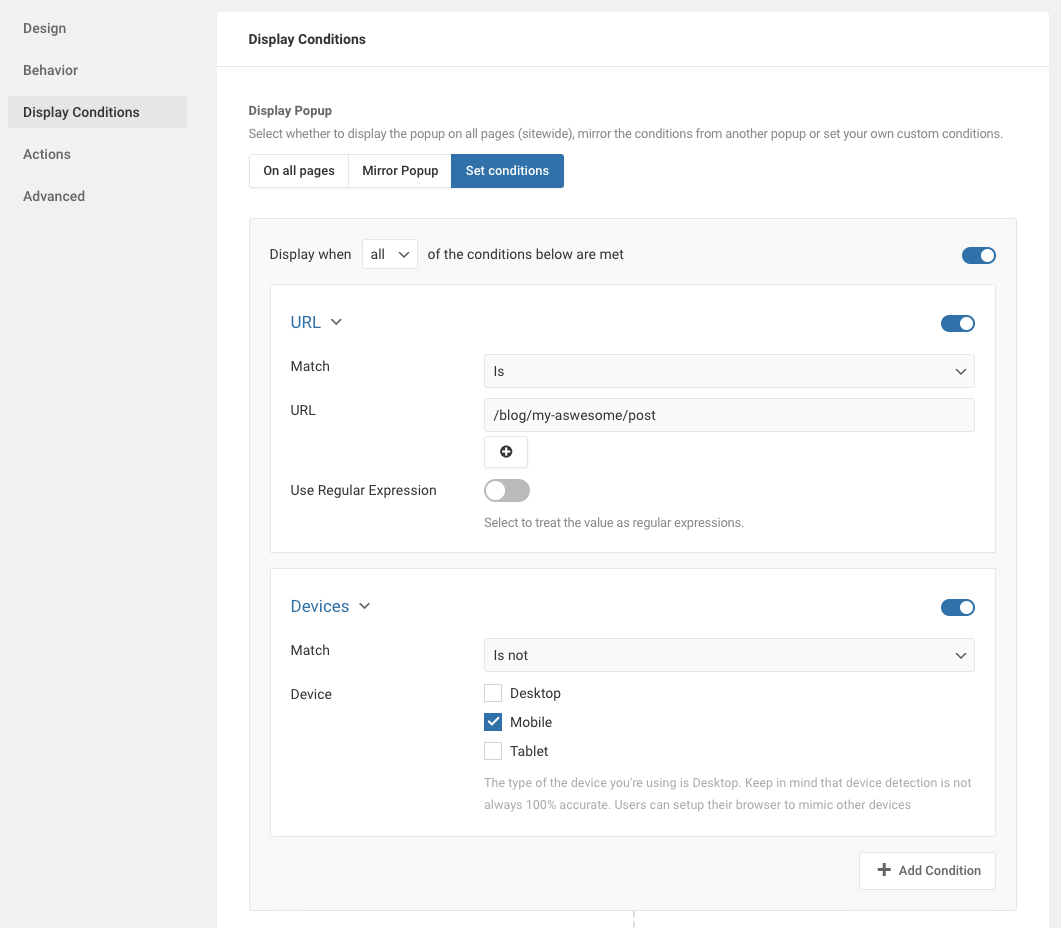 The Display Conditions is a powerful tool that allows you to target users based on various criteria, including the current date and time, user group, pages, posts, categories, and more. You can even target users based on their device, operating system, browser, and physical location using our geolocation-based rules! In addition, the Display Conditions tab makes it simple to choose from 30+ conditions to fine-tune your popup displays.
And now, the Display Conditions have been updated with a new, user-friendly design that makes it even easier for you to use. Conditions run 4x faster on the front end; a popup can have multiple condition rules, and lastly, you can now mirror the conditions of another popup to save your valuable time. In addition, you can create advanced rule scenarios by grouping conditions together to evaluate them with the AND or OR operator.
And the best part? We've recently added more conditions to help you target your users more precisely. You can now target users based on their city, region, day of the week, and even the current month. These new conditions give you even greater control over your popup displays.
We want to make sure that FireBox is the best popup builder for WordPress, and we value your input. For example, if there's a specific display condition that you're missing, let us know! We're always looking for ways to improve our products and make your life easier.
Valentine's Day popup templates
It's that time of the year again when love is in the air and hearts are filled with joy. Valentine's Day is the most romantic holiday of the year and the perfect time to show your customers some love by boosting your sales.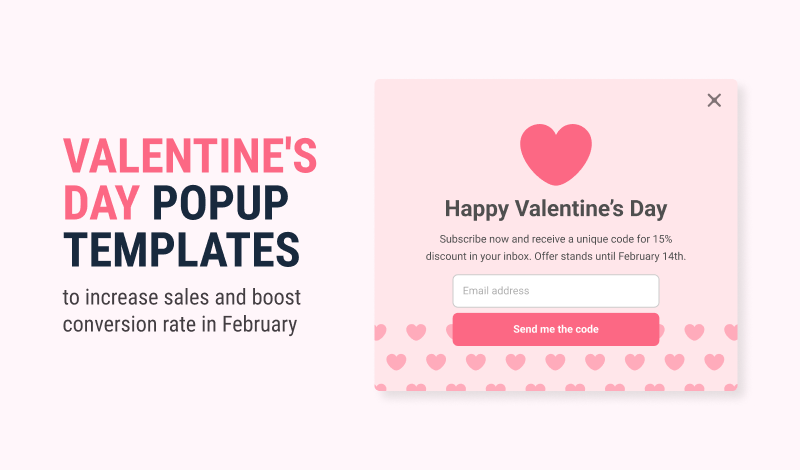 We are thrilled to announce that we have recently added Valentine's Day popup templates to FireBox. These popup templates will help you attract and retain customers, increase engagement, and drive more sales this February.
Here are a few reasons why using popups for Valentine's Day is a smart choice:
Increased Visibility: Popups are highly visible and can capture your customer's attention immediately, ensuring that your special offers and promotions don't go unnoticed.
Personalized Experience: With our Valentine's Day popup templates, you can create a personalized experience for your customers, making them feel special and appreciated.
Increased Conversion Rates: Popups have been proven to increase conversion rates, and with the right design and message, you can convert more visitors into paying customers.
Timely Promotion: Valentine's Day is a time-sensitive holiday. Popups allow you to promote your products and services in real-time, ensuring you take advantage of the holiday rush.
Take advantage of this opportunity to make the most of Valentine's Day and drive sales for your business. Here are 11 Valentine's Day popup marketing strategies to help you promote your sales during this important holiday.
We wish you all the love and success this Valentine's Day. Happy selling!
Spread the love
We hope you enjoy using our WordPress plugins and finding them helpful in your projects. We are constantly working to improve them and offer the best possible experience to our users.
Your feedback is incredibly important to us, and it would mean a lot if you could take a few minutes to write a review on the WordPress Directory. Your review will help us improve our products and help other users discover our plugins and make informed decisions.
Writing a review is easy; log into your WordPress account and leave a rating and a few words about your experience with our plugin. Whether you have had a positive or a negative experience, we want to hear from you so that we can continue to make our plugins better.
Thank you for your support and for being a part of our community. Your feedback is truly appreciated.
Sign up for our newsletter
Stay up-to-date with all the latest happenings in the WordPress world! Subscribe to our monthly newsletter and receive exclusive insights on product updates, new versions, bug fixes, improvements, and valuable WordPress tips. Our newsletter is your one-stop source for WordPress, so take advantage of it.