Data privacy has become a significant concern among digital product consumers worldwide. With privacy laws like the General Data Protection Regulation (GDPR), it's important to protect your site visitors' privacy as a site owner or web developer. Fortunately, a WordPress cookie popup plugin can help you cater to this effectively.
Website analytics is a very critical part of any successful digital business. But optimizing your marketing campaigns often involves collecting your site visitors' information with the help of cookies. It could be basic information like their device type or something more specific like their site behavior.
In any of these cases, new data privacy regulations like the EU's GDPR or the California Consumer Privacy Act (CCPA) require you to seek the user's content before collecting this information. As a WordPress site owner or administrator, a cookie consent plugin makes it super easy to comply with these privacy laws.
All you need to do is add the right WordPress cookie policy popup plugin to your site. You can then use it to show a cookie consent notice each time a user visits your site.
In this article, we'll show you how to add a cookie consent notice to your WordPress site with a powerful plugin called FireBox. But before then, let's talk briefly about the EU Cookie Law and why you need a WordPress cookie popup plugin.
Why Your Site Needs a Cookie Consent Notice
A browser cookie or HTTP cookie is a small file with data fragments that websites save in a user's browser when they visit a site. Cookies can be used to improve the user's browsing experience and the site owner's sales and conversion rates. WordPress sites use cookies a lot as well.
For example, you can use cookies to store a user's login information on your WordPress site. This means they won't need to reenter their details when they next visit your site using the same browser.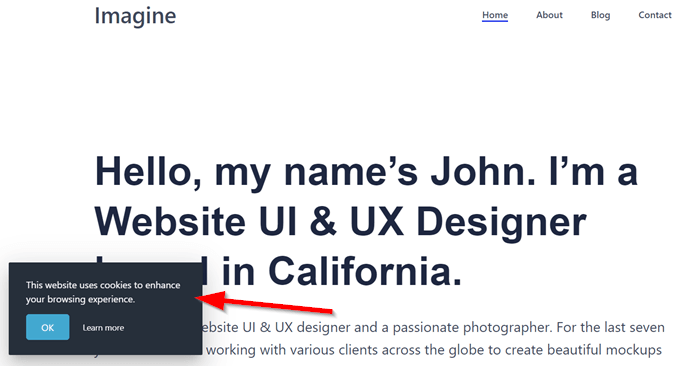 While these cookies are helpful to both the site visitor and owner, they also raise multiple security concerns. In the past, some websites have collected user information and shared it with third-party advertising platforms.
This explains the Cookie Laws (among other data privacy laws) that require site owners to let users know whenever your site collects their information. You can find this in the cookie-related clause of the amended ePrivacy Directive. Under this EU GDPR Cookie Law, you'll need to display a cookie consent notice if your target audience is in the EU or any other region with a Cookie Law.
With this cookie policy notice, your site visitors will not only know that you're using cookies. They'll also know the information you're collecting and can opt-in, opt-out, or decide which information they're ready to share. On most websites, the notice appears as a banner either at the top or bottom of the page.
Failure to comply with this law can lead to GDPR fines as high as €20 million or 4% of your company's total revenue worldwide. For example, Amazon had a pay a whopping €746 million to the Luxembourg authorities for violating this sum. That's quite a huge penalty for a legal requirement that can easily be fulfilled.
Now that we've explained why a cookie consent notice is important let's discuss the best WordPress plugin for adding one to your site.
Best WordPress Cookie Popup Plugin
When choosing a WordPress cookie consent plugin, it's important to choose a solution that offers as much flexibility as possible. Beyond displaying a cookie consent notice, it makes sense to go with a plugin with other powerful features for displaying all kinds of popups. This eliminates the need to install multiple plugins that may slow down your website.
This is why we highly recommend the best WordPress popup builder, FireBox. The plugin offers a lot of robust features for creating any popup. You're not limited to cookie consent notices only. You can also set up other utility popups like age verification and adblock detection.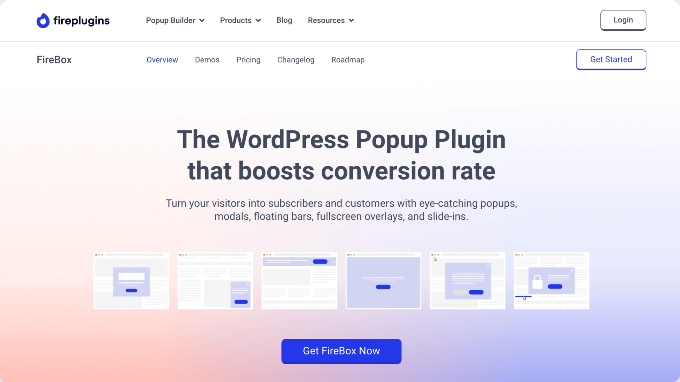 Though FireBox isn't designed to be a full-fledged cookie consent management plugin, you can use it to meet the GDPR compliance requirements.
The plugin allows you to display a simple cookie consent notice to your site visitors, informing them of your site's usage of cookies. But they won't be able to choose which cookies to accept or reject. It also can't block cookies from being stored in the visitor's browser.
On the other hand, you'll get more flexibility than with other traditional cookie consent management plugins.
As a fully featured popup builder, you can use FireBox to show the cookie consent notice using any of the multiple popup types available. For example, you can choose to go with a fullscreen popup or a floating sticky bar in any corner of the website.
Key Features
Apart from being able to choose from several popup types, here are some other powerful features you'll enjoy using FireBox:
Different popup triggers: You can decide when to trigger your WordPress cookie consent notice. Some common trigger options include scroll depth, click, page load, or element visibility. Most importantly, your trigger choice should consider user experience and GDPR compliance.
Cookie Law templates from the popup library: To make your workflow even faster, you can choose from a selection of over 15 pixel-perfect templates tailor-made for cookie consent notices. FireBox has other elegant template designs to set up high-converting marketing popups in minutes.
Full customization options: Get complete control over your WordPress cookie acceptance notice. Customize the message, colors, and even buttons. You can also configure how frequently you want the user to see the notice or limit it to certain pages instead of seeing it sitewide. Similarly, you can link to your full privacy policy page for complete transparency.
FireBox doubles as a cookie alert plugin and a fully functional WordPress popup builder.
Now that we've examined some of FireBox's key features let's see how to create a WordPress cookie consent notice using the tool.
How to Create a WordPress Cookie Popup
To add a cookie consent notice to your WordPress, the first thing you need to do is install and activate FireBox.
The free version of the plugin allows you to create a cookie consent popup. So, you can add FireBox to your site by going to Plugins > Add New. Then search for 'FireBox'.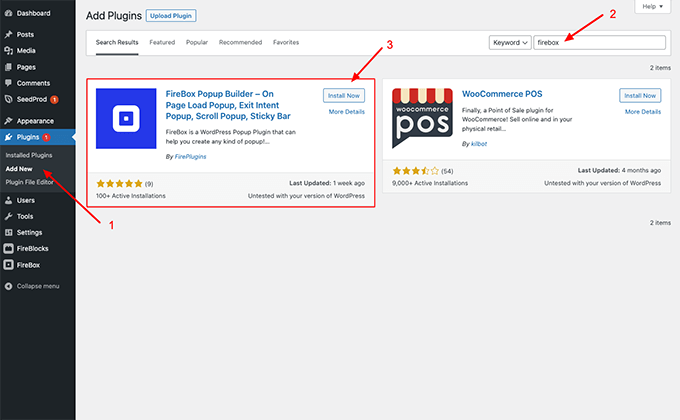 Click Install Now, followed by Activate. Next, go to the new FireBox tab that has just been added to your WordPress dashboard. Select New Popup.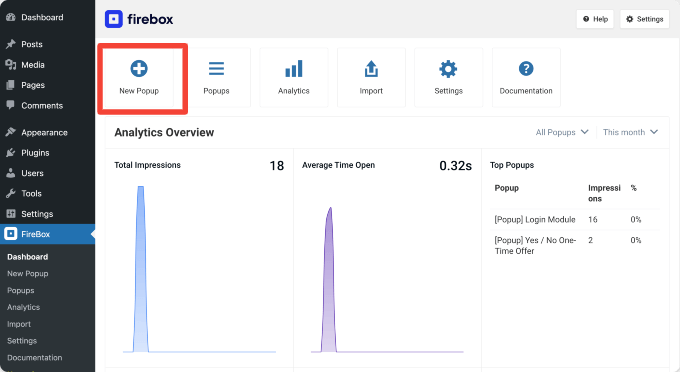 You'll see the popup template library on the next page. Type 'Cookie Law' into the search field to filter the available templates. In the free version of FireBox, you get 5 simple templates with cookie popup notice designs.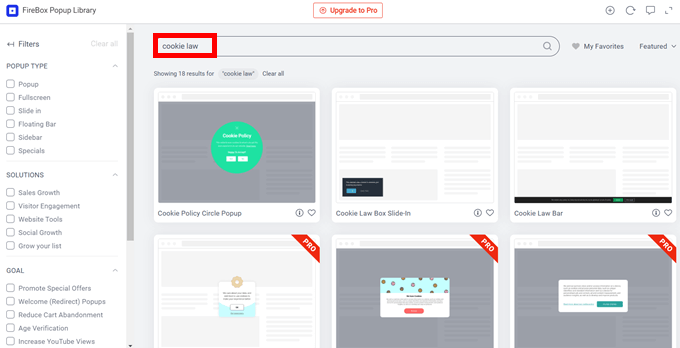 These templates include popup types like a circle popup and a box slide-in. You can upgrade to the pro version of FireBox to access over 10 other premium Cookie Law design templates.
You can preview the popup to see what it looks like. Once you pick a template of your choice, click Insert. Configure your cookie consent notice's content and design on the next page using the default Gutenberg Block Editor.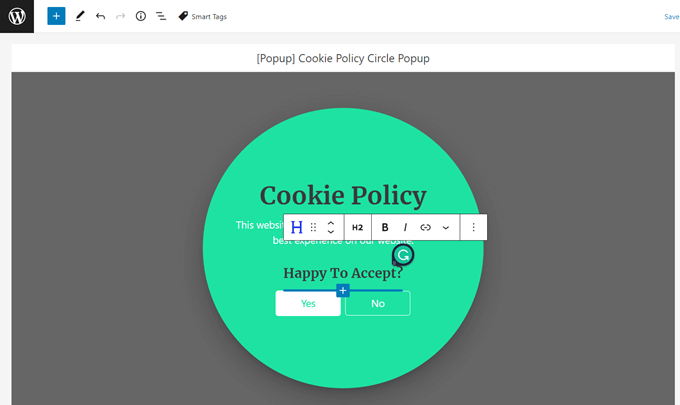 After setting up the design, scroll down to the FireBox Settings section. Here you'll be able to configure the popup trigger type, page position, and other publishing rules.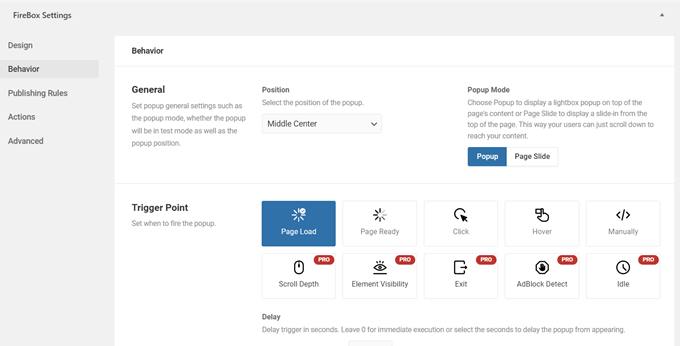 When you're done with all the settings, preview your design and hit the Publish button once you are satisfied with the results.
That's it! You've successfully added a WordPress cookie consent notice to your site! Your site now complies with the GDPR Cookie Law or regional privacy law.
WordPress Cookie Consent Notice FAQs
Does my WordPress site need a cookie consent notice?
Yes, if your target audience is in the EU, California, or any other region whose data privacy laws demand it. In most cases, it might be hard to predict that none of your site visitors will come from these regions. This is why most large-scale international businesses add consent notice to their sites.
What does the Cookie Law require?
The Cookie Law requires all site owners to inform their users of any use of cookies. So, your cookie consent notice must explain how cookies work, state the type of information you're collecting, and what you do with the information collected. Finally, you must also obtain consent from your users before your site can save cookies in their browsers.
How often should you demand cookie consent from your site visitors?
The Cookie Law only requires you to display the consent notice once. After the site user's first visit, you're not mandated to keep showing the notice on each visit. However, you may want to demand consent at certain intervals in the future. For example, you'll need to obtain fresh consent after adding a third-party service that relies on browser cookies to your site. Certain EU Data Protection Authorities (DPA) require you to seek cookie consent at least once in 6 months.
Making Your WordPress Site GDPR-Compliant
Serving digital customers in the EU and certain regions with strict data privacy laws requires attention to certain legal requirements. Complying with the EU Cookie Law should be a top priority as a WordPress site owner.
Fortunately, you can easily meet this requirement using a simple WordPress cookie consent notice plugin. We recommend using FireBox as the plugin not only allows you to display a cookie consent notice. You can also boost your site's sales and conversion with the numerous popup types and features it offers.
This article shows you how to use a free WordPress plugin to add a cookie consent notice to your WordPress dashboard. We hope it has proved helpful in complying with the EU GDPR. Let us know if you have any questions in the comments section below.