The User ID Rule gives you perfect control over who exactly is going to be able to see your popup. The only information that you need to know is naturally the User ID which you can see from WordPress User list.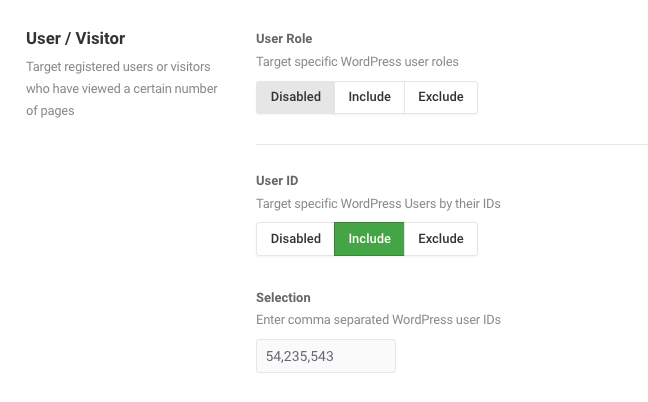 Options
In the table below you can see which options are available to setup the User ID Rule.
| Name | Description |
| --- | --- |
| Selection | Enter comma-separated WordPress user IDs |
Use Case
A very common use case for the User ID Rule is when you want to display a particular message to one or more specific users who may have won a contest in your site and you'd like to congratulate them or award them their gift.
Useful Notes
The WordPress User ID can be retrieved by navigating to Users in WordPress Left-Side Menu. You then will be redirected to a screen from which you can see a list of users. You can click on a user to go to their edit page and copy the URL on your browser. It should look something like this:
https://fireplugins.com/wp-admin/user-edit.php?user_id=12345&wp_http_referer=%2Fwp-admin%2Fusers.php
Number 12345 is the ID of the user.